Pruning Vines – the start of the new Season
March – Pruning Vines is the start of the new Season in our Vineyard
As the vines start to wake up from their winter slumber, we are getting ready for the new growing season and that means pruning the vines!
We have done most of the pruning – cutting off last season growth and leaving 2 buds per shoot for the new shoots to emerge. See the sketch below with the before (on the left) and after (on the right.)
Here is  a view of our vines BEFORE and AFTER.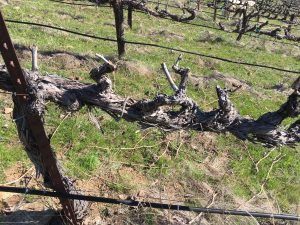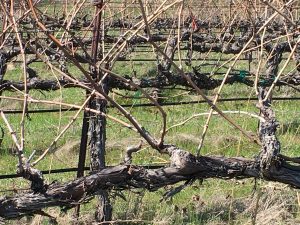 Check out this article on pruning vines.
VOLES
Last year we had an issue with voles – again!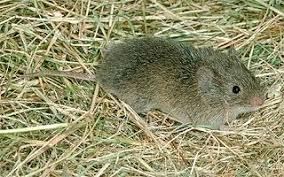 As cute as they are, the are very destructive in a vineyard! And this time, the destruction was devastating. At least one third of our Zone 4 vines (Syrah) were girdled!
The unfortunate thing about vole damage, is that you don't know you have a damaged vine, till it is too late!
The vines may or may not come back this year. So we have been in the vineyard marking the ones that seem to be dead. If they are truly dead, Nic will cut the vines trunk at the base to see if there is any life.
Then, we wait to see if any shoots emerge. Some vines appear to be dead, as the shoots from last year are dried out, but there still might be some life closer to the ground.
Only when the vines have budded out, in a couple of weeks, will we be able to ascertain the extent of the damage. Meanwhile, our yield in Zone 4 this year will be affected. Plans on recovery are still under way.
But, life goes on. The rest of the Vineyard, Zone 1 (Grenache), Zone 2 (Syrah) and Zone 3 (Mourvèdre) have all been nicely pruned and are getting ready to bud.
What's Next
The lack of rain is definitely a concern for us, and we are all hoping for a March Miracle. We have contemplated irrigating soon, but now they are predicting some rains. Holding our thumbs. Stay tuned for an update in the next blog.
Share this blog in your social media links below.