The Covid Challenge for Wine Tree Farm and YOU
The Covid Challenge struck California in the early part of 2020 and has affected directly or indirectly just about every individual and business in the state. Individuals especially older ones and those with ailments which compromised their health, faced and continue to face deadly risks.
The Deadly Spread
Unfortunately by the end of January 2021 close to 3 million Californians will have become infected and sadly over 30,000 will no longer be with us.
The devastation wrought on businesses has likewise been deadly. Numerous small businesses were forced to close or conduct business curbside. As a result many small businesses were deprived of the income needed to remain open. For some their closures were final.
Winery Shutdowns
Wine Tree Farm also faced the Covid Challenge, we were amongst those who had to effectively shut down. We could not conduct tastings, blending classes or sales to the public in our tasting room. As you can well imagine businesses can not operate for long without consistent income. Fortunately for Wine Tree Farm, many of YOU, our steady customers reverted to internet purchases and curbside sales.
Brief relief then shutdown again
The fall of 2020 brought welcomed relief when restrictions were eased and we were able to offer tastings again, although outside, and we were also able to hold blending classes, outside as well.
But with the arrival of colder weather the virus came back again as did strict regulations forcing many businesses, including Wine Tree Farm to effectively close again.
An Essential Business 🙂
While we would argue that selling wine to our customers should be classified as an essential service, dour state regulators disagree.
Fortunately with Corinne and Nic being the frugal worker bees, Wine Tree Farm has been able to squeak through these difficult times, aided in no small part by YOU, our faithful customers.
Thank You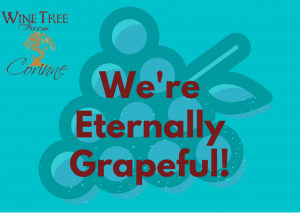 In a way this is a "Thank You!!!" to all of YOU who have helped us stay afloat during these difficult times. We hope you've enjoyed our wines and will soon be replenishing your dwindling wine inventories.
While many of you are likewise affected by curtailment or loss of work as countless businesses cut back or close, we all need to remain positive that "This too, will pass".
With the roll out of the vaccine, which hopefully will be available soon to most Californians, we will see a return to what we longingly refer to as "Normal", by mid year.
So, as 2021 unfurls, let's all raise a glass of wine, as Nic and I wish you the very best, and rest assured that better times lie ahead!
Corinne