Wine_Tour_Day2
Day 14, Monday, November 21, 2022 - Day 2 of the Wine Tour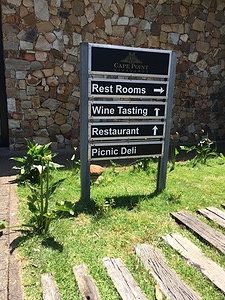 What a day! We tasted a lot of wines! This area is predominant white wines – so it was interesting for Penny and I who are normally red wine drinkers.
Started at Cape Point where we toured the vineyard first. Their vines are low to the ground to protect them from the winds that are all year round. The vineyards higher up the mountain are more like ours. We tasted 6 wines: 3 were Sauvignon Blanc wines made in different styles:
2021 Sauvignon Blanc – their entry level
2021 Sauvignon Blanc from their Noordhoek Vineyard
2021 Sauvignon Blanc Reserve
Then 3 of their Wines of different vintages blended with Semillon 2015, 2017 and 2020 Isliedh – a blend of 75% Sauvignon Blanc and 25% Semillon. Wines were great.
They do natural fermentation on their wines and the wines are aged in oak.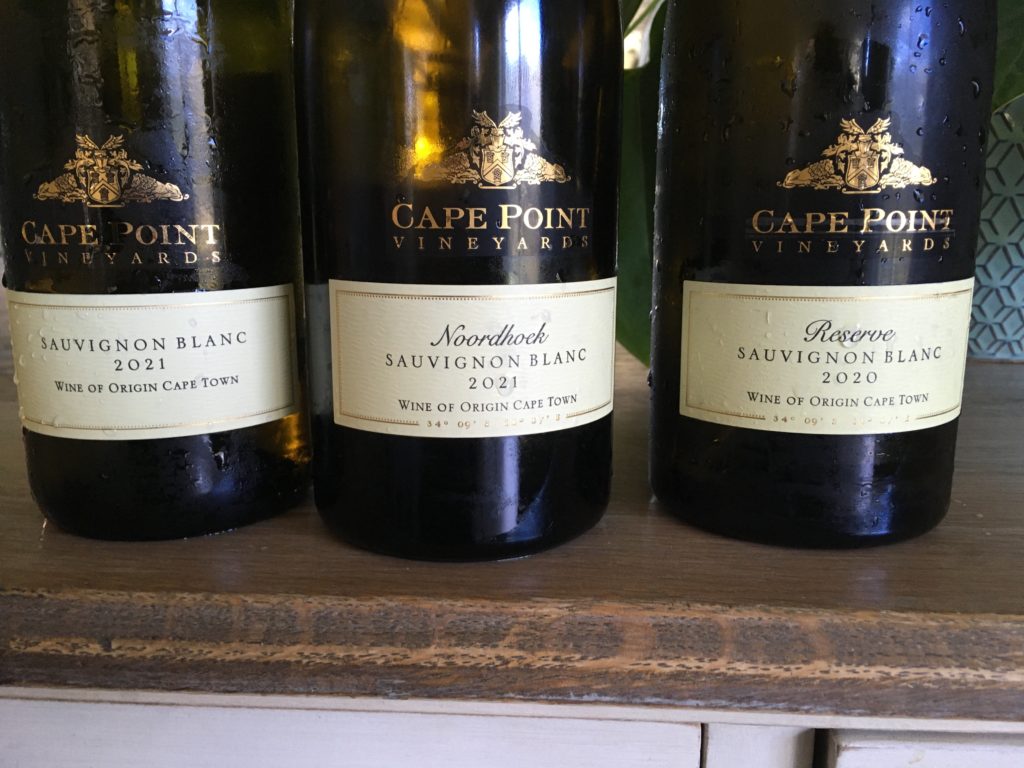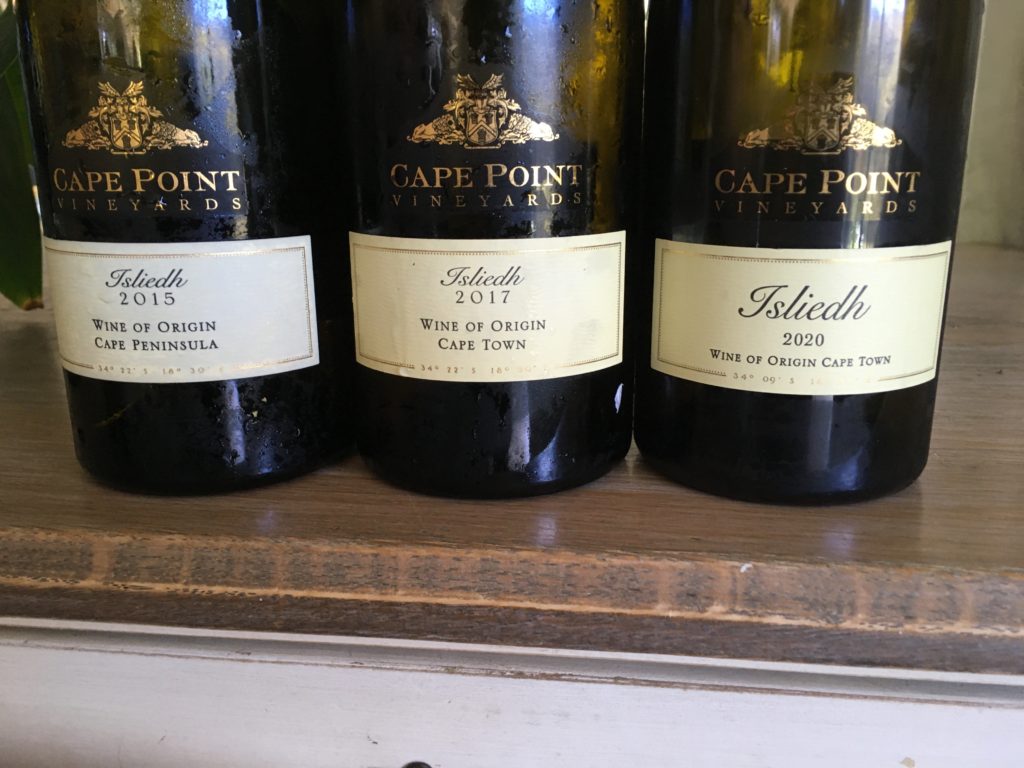 Second winery we went to was Klein Constantia- so far the highlight of the wine tasting.
We started on with a vineyard tout in a safari style vehicle. Penny sat in the front 'rumble' seat as we drove around the vineyard and Penny hung on! It was incredible!
Then we stopped on the lawn of their Manor House for lunch.
As we arrived at the lawn of the Manor House we were offered a glass of their MCC (Methode Cap Classique) – Bubbly – Blanc de Blanc Chardonnay
During lunch we were served:
2020 CUVÉE ANABEL ROSÉ – A wine dedicated to Anabel Bakala, the eldest daughter of our owner Zdenek Bakala which is 100% Cabernet Franc!
Next was their 2021 Sauvignon Blanc – 100%
Then they served their 2016 Red Blend – 61% Cab, 19% Petite Verdot, Malbec 17%
Followed by a pre release of their 2018 Anwilka Blend from the Anwilka vineyard – this is 55% Syrah, 31% Cab, 14% Petite Verdot.
We then went to their tasting room which overlooks their stainless steel tanks for a tasting of their famous Vin de Constance – This is made from Muscat de Frontignan and is a sweet wine, but not fortified like a port. We tasted the 2016, 2014, and 2012. Great wines – not too sweet – but expensive!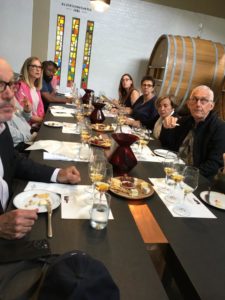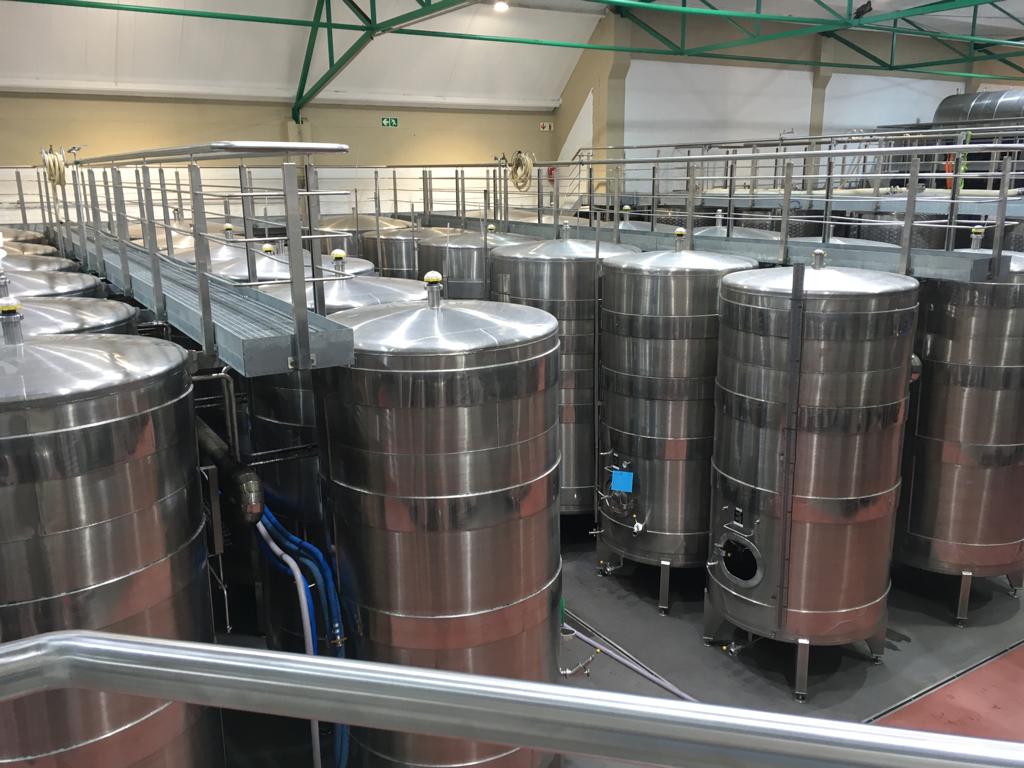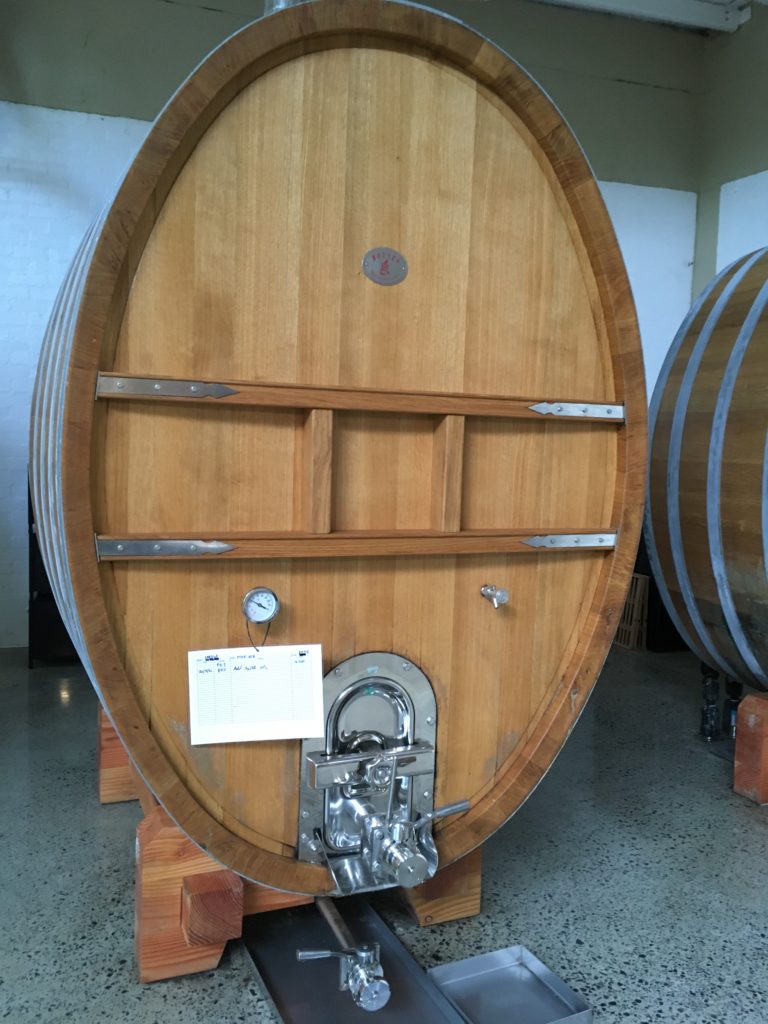 We started this visit with a tour of the Vineyards and the Winery. 
The vineyards are typical of the vineyards in the area, with a low fruiting zone because of the wind. A beautiful property!
In the winery they do everything by gravity and have a 3 tier winery – with 2 levels underground. They stack their barrels 5 high! and empty them before moving them, as they don't have room for a forklift! They use a hydraulic basket press for their reds, as they believe it is a more gentle press!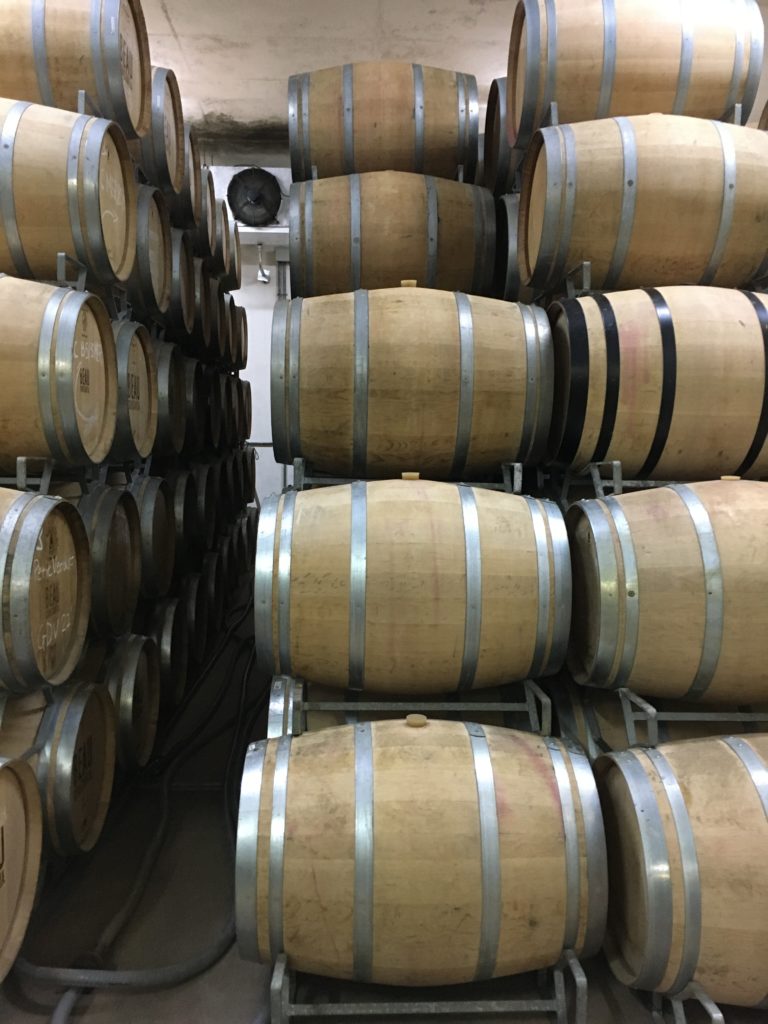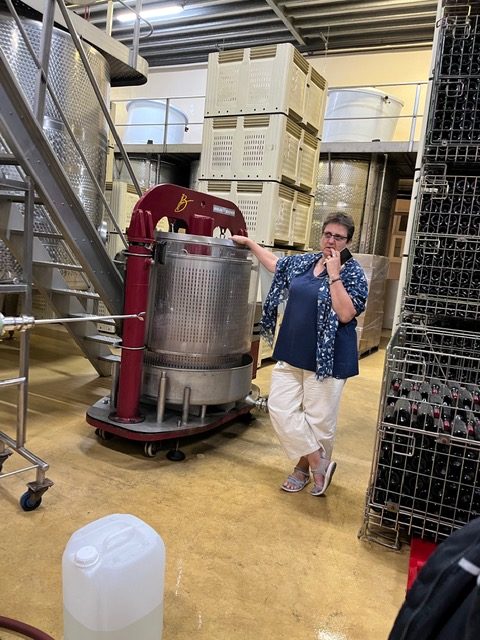 We, then, made our way to the tasting room for more wine.
(Unfotunately, none of us enjoyed these wines. 🙁 Maybe we were all wined out by this time as we had already tasted 14 wines!)
They focus on the Bordeaux grapes
Our first flight was 3 whites and a Rosè.
Constantia Saddle – 92% Sauvignon Blanc and 8% Semillon
2022 Sauvignon Blanc – 97% Sauvignon Blanc and 3% Semillon
Sauvignon Blanc TWO – 71% Sauvignon Blanc and 29% Semillon
Constantia Saddle Rosè is a Bordeaux blend of all 5 bordeaux grapes: Cabernet Suavignon, Merlot, Cabernet Franc, Petite Verdot and Malbec (they did not share the %'s)
We moved onto the red flight – all Bordeaux blends.
Constantia Saddle Red – 46% Petite Verdot, 30% Malbec, 13% Merlot, 11% Cabernet Franc
Constantia Glen Three – 62% merlot,

 

23% Cabernet Franc, 

15% Cabernet Sauvignon

Constantia Glen Five – 28% Cabernet Franc, 24% Cabernet Sauvignon, 21% Merlot, 17% Petite Verdot, 10% Malbec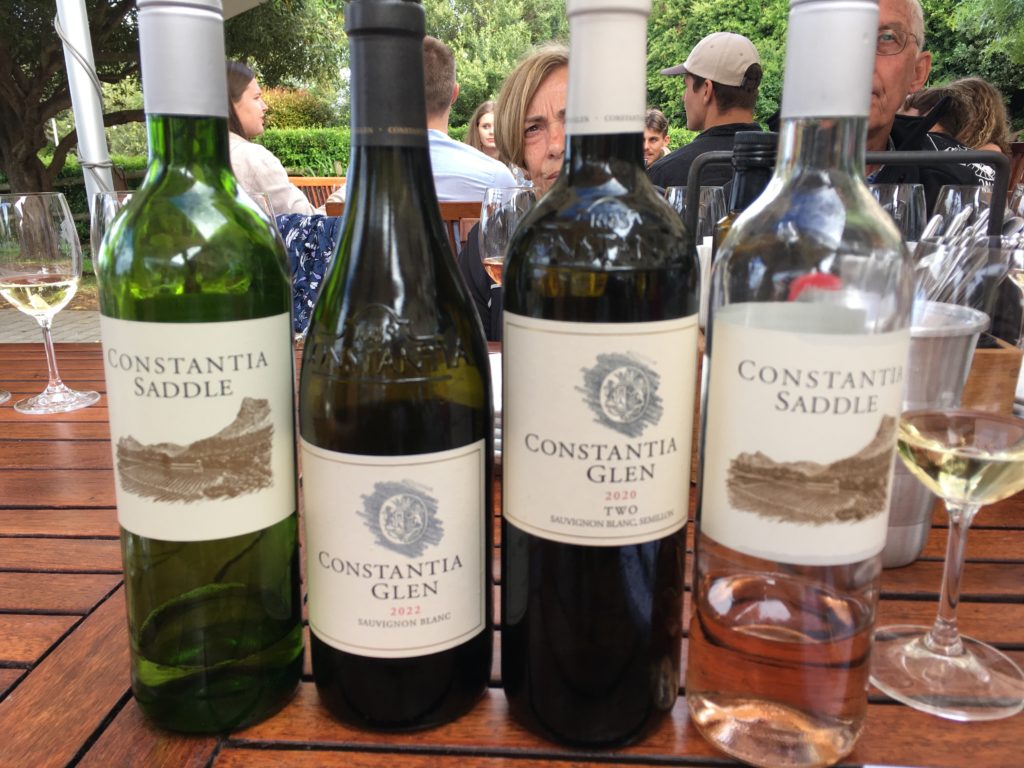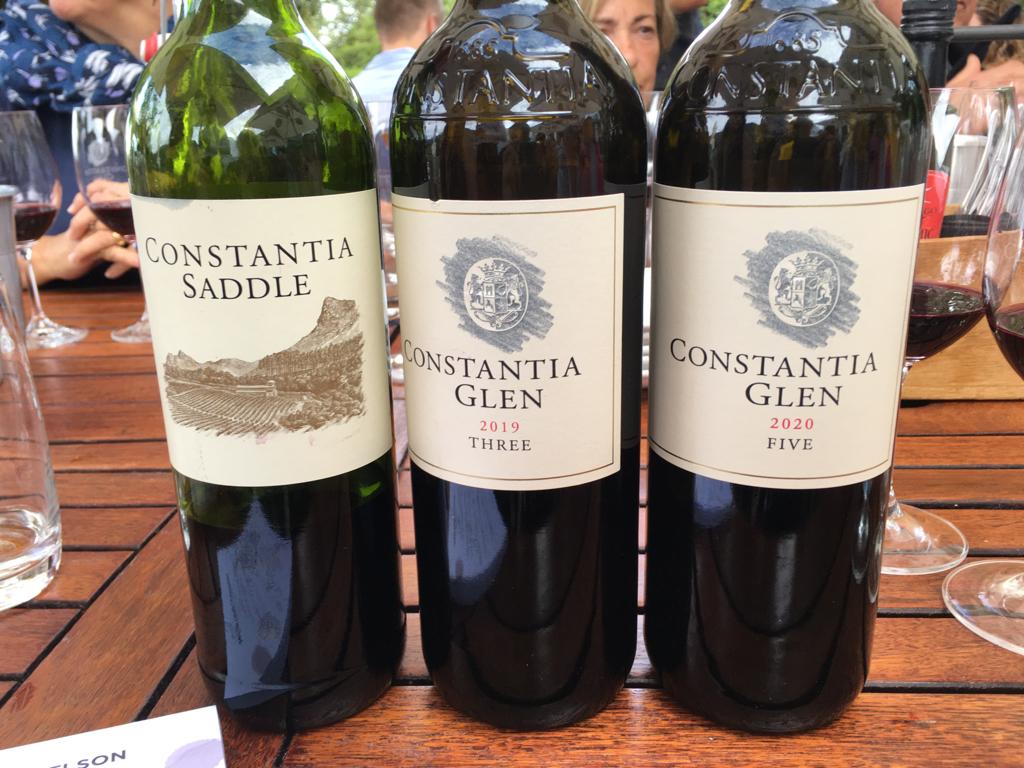 Back At The Ranch (Mount Nelson )
That night we had a Wine Makers Dinner at the Mount Nelson. We were treated to wines made by some excellent up and coming winemakers.
They all work at other wineries, and the owners of these wineries encourage them to pursue their own wine making dreams and allow them to use the equipment of the winery. What a great concept!
There were 3 Winemakers:
Natasha Williams – Lelie Van Saron
She poured a Chardonnay/Pinot Blanc Pét–nat (an abbreviation for "pétillant naturel"—a French term that roughly translates to "naturally sparkling.' – the wine gets bottled part way through fermentation and continues to ferment in the bottle. This is slightly different to Methode Champenois.
She also poured a Chardonnay and a Syrah
Next was Kayleigh Hattingh of Rebel Rebel wines
She, too, poured a Pét–nat made from Pinotage (South Africa's signature grape.)
Followed by a Colombar and a Syrah.
The third winemaker was Rüdger van Wyk of KARA-TARA wines – named after a river near George, Western Cape where he grew up.
He poured a Chardonnay, a Pinot Noir and a Reserve Pinot Noir.
All these wines were spectacular – and of course, so was the food but I forgot to take notes on the food! I was too involved in the wines. 🙂