Wine_Tour_Day5
Day 17, November 24th - Happy Thanksgiving in the USA
Day 5 of our Wine Tour
After a great breakfast at Lanzerac we hopped on the bus for Kanonkop. I was very excited for this tasting as they are famous for their Pinotages.
We started with a vineyard tour. They have an interesting way to handle voles (mice as they call them) They build a raised berm where the vines are planted making it harder for the critters to hide in the brush. Hard to describe it and I forgot to take a picture. 🙁 So I stole this one from their website. They also use owl boxes and have a long tall pole around the vineyard for the raptors to perch.
I asked about the viability of growing Pinotage in Amador County. The opinion is that we are mostly too hot, but if managed correctly, is possible. A thought!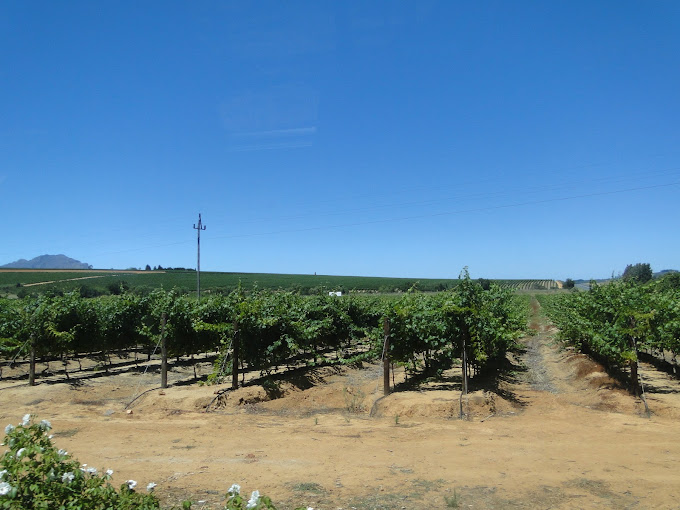 We then went on a cellar tour. Interestingly, they do manual punch down of all their wines. Take a look at the video on their wine making philosophy. Kanonkop Wine Making Video
On to the tasting!
When we entered the tasting room, we saw on a table 7 Bottles of wine in 7 different sizes. Great display!
They have 2 Ranges of their wines. 
We started with the Kadette Range
First up was a 2022 Pinotage Rosé – very light and refreshing
Next was the 2020 Cape Blend – a blend of 43%Pinotage, 33% merlot, 22%Cabernet Sauvignon and 2% Cabernet Franc
Then the 2020 100% Pinotage – delicious
Followed by the 100% Cabernet Sauvignon – also delicious.
Moved on to the Estate Range – this is a more expensive lineup
2020 Pinotage
2013 Pinotage
2018 Cabernet Sauvignon
2008 Cabernet Sauvignon – Fabulous!
Then we tasted 2 of the Paul Sauer (Kanonkops Patriarch) wines which are bordeaux blends
2011 – 70% Cabernet Sauvignon, 18% Cabernet Franc and 12% Merlot
2019 – 75% Cabernet Sauvignon, 14% Cabernet Franc and 11% Merlot
The last hurrah was their ever famous, ever expensive 2019 Black Label Pinotage – this wine is made from a single vineyard and has won many awards.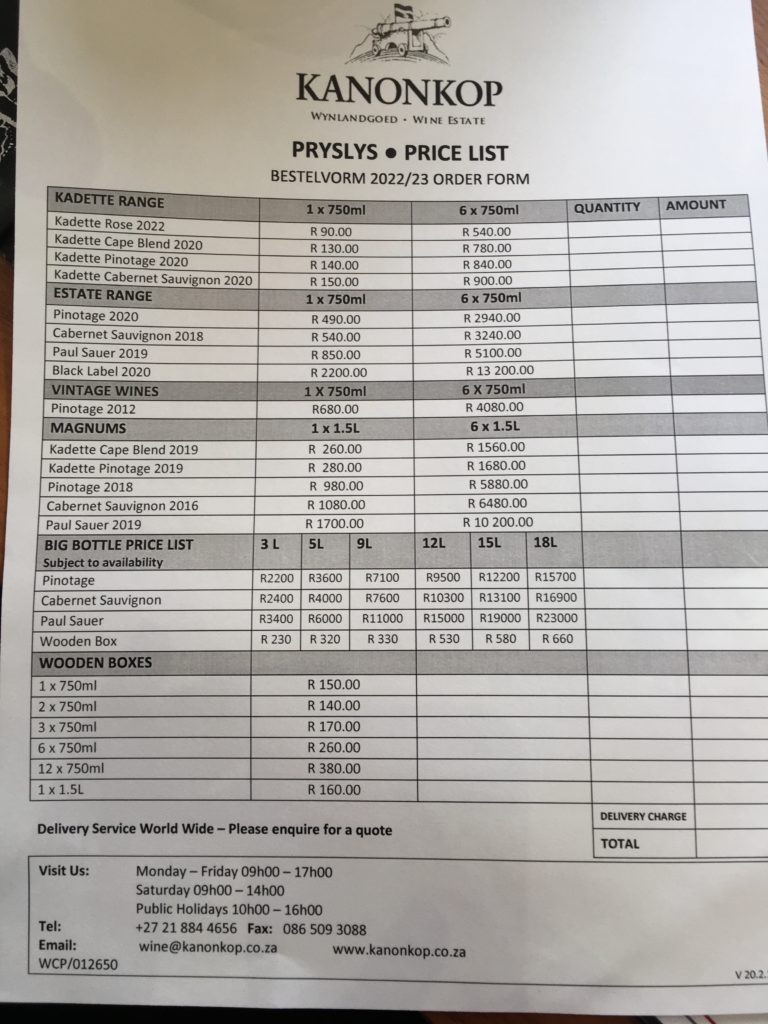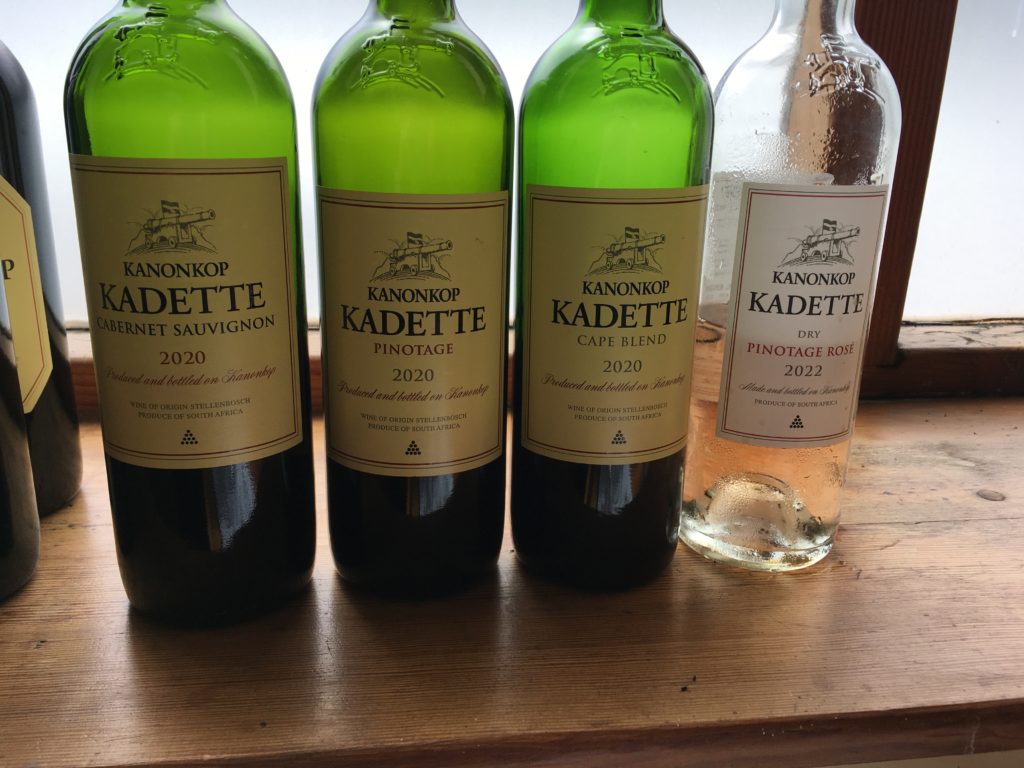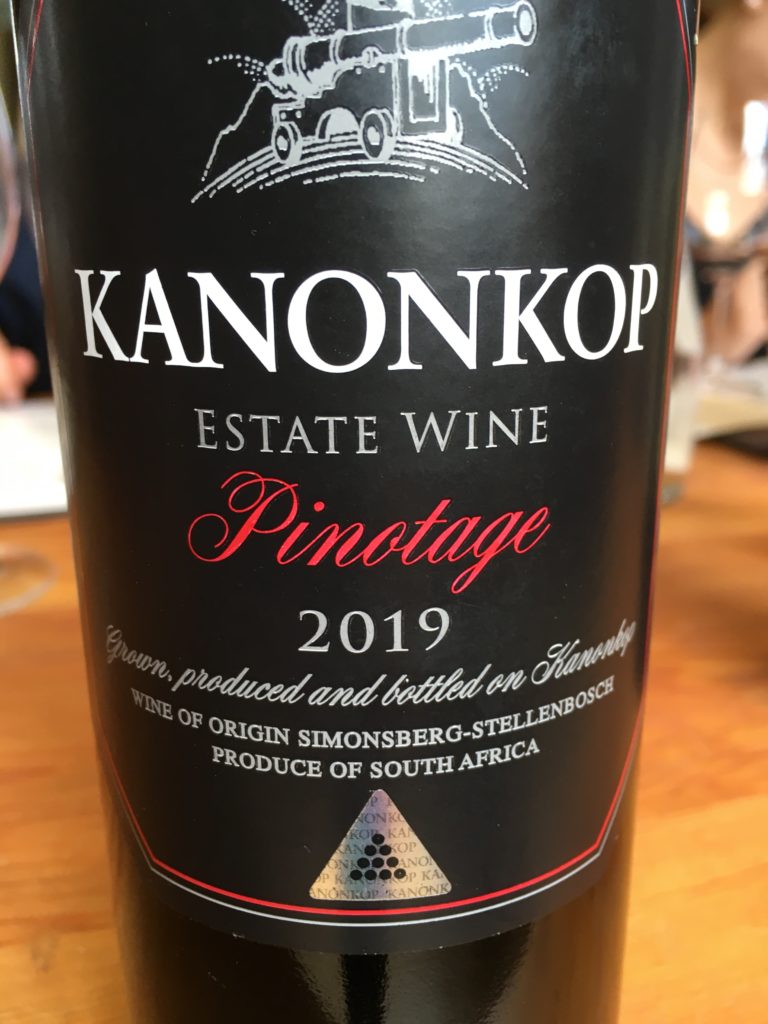 Back on the bus and off to The Vine Bistro at Glenelly. We were here for lunch and wine with lunch, of course. See the menu below.
The first course, a yellowtail salad, was paired with their 2020 Reserve Chardonnay
followed by the 'coq au vin' with the 2015 Estate Reserve blend – 35% Cabernet Sauvignon, 30% Merlot, 15% Syrah, 10% Cabernet Franc and 10% Petite Verdot
The main course – Karoo Lamb – was paired with Lady May's (owner and matriarch of the estate) blend – 90% Cabernet Sauvignon, 5% Petite Verdot, and 5% Merlot.
After lunch, some of us visited the Glass Museum. The owner, May de Lencquesaing, has had a lifelong passion for rare and contemporary glass and has one of the largest privately-owned collections in the world. (picture stolen from their web site. 🙂
We were offered a tour of their winery, and I was the only one who took the tour. (I think the rest of the group were tired of seeing tanks and barrels.) The view from their tank/barrel room was spectacular! Surrounded by glass windows – these cellar workers hvae a constant view of daylight all day – not your traditional Cellar!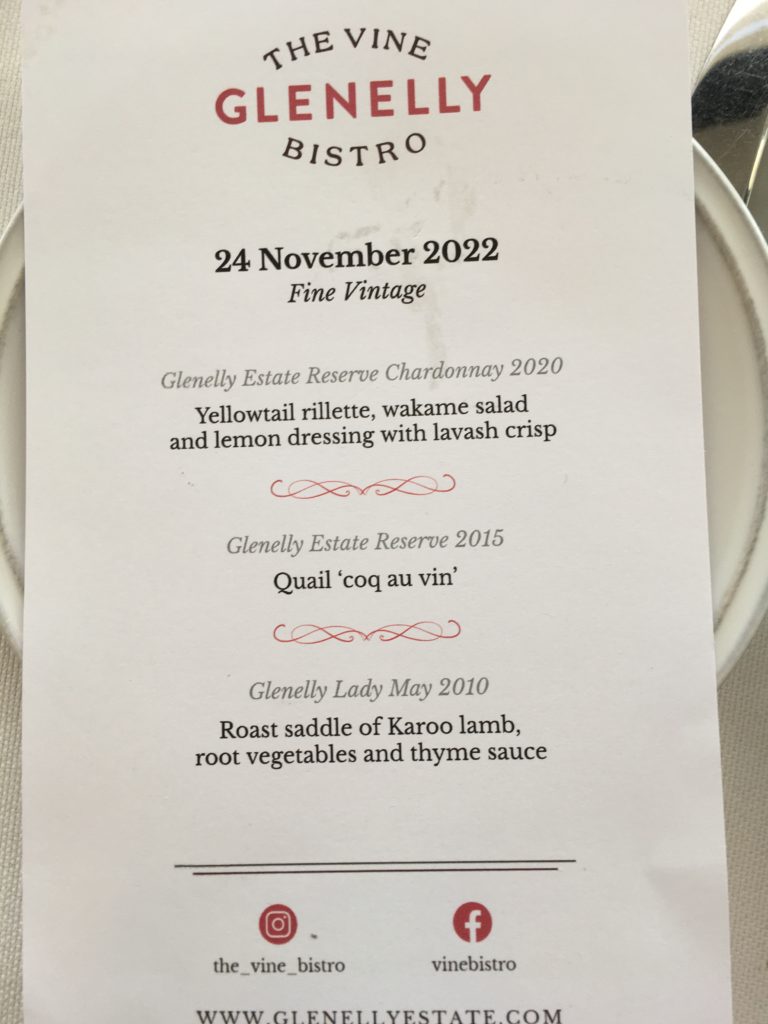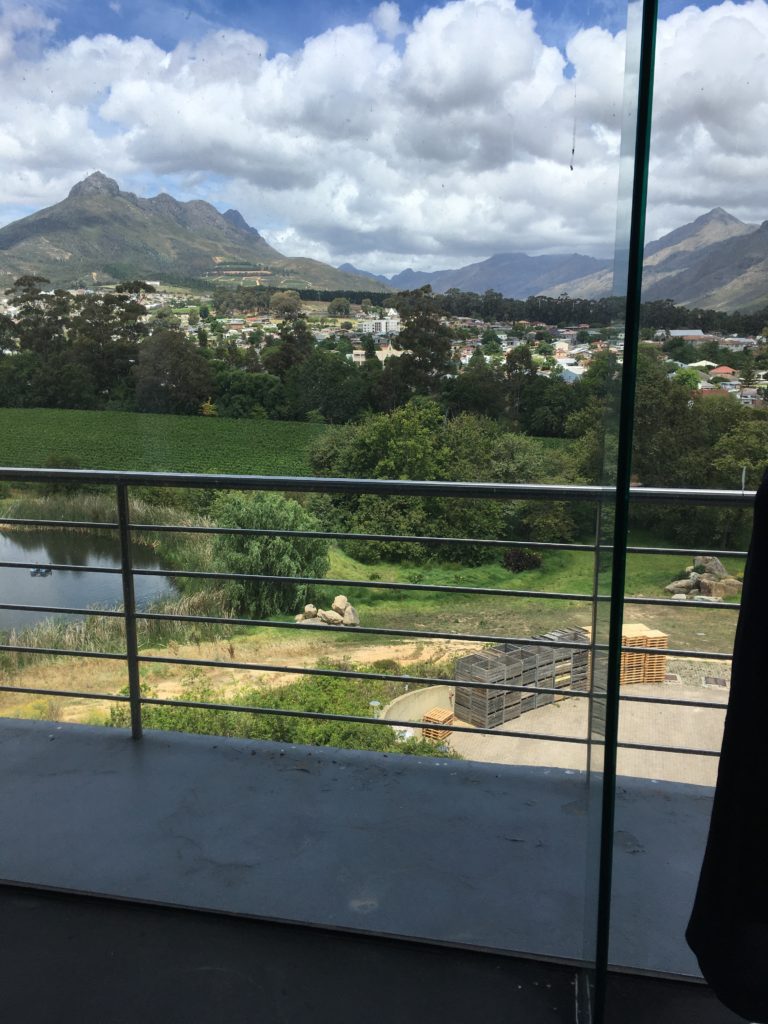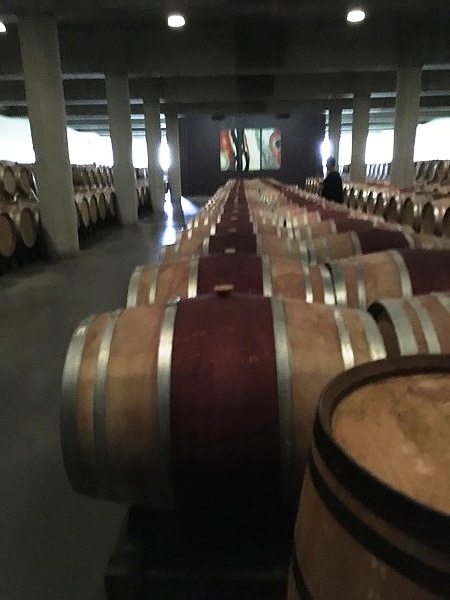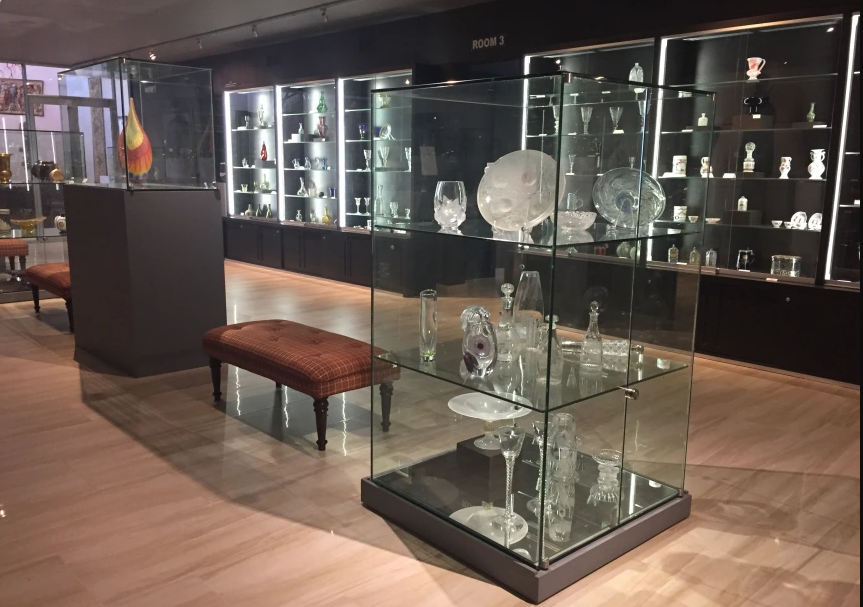 Next stop was Colmant – A bubbly (MCC in South Africa) house in Franschoek.
Started with a cellar tour before our tasting. Their cellar was so well organized. Need to get mine looking even vaguely similar 🙂
We also saw a stack of bottles, packed on top of each other in such a way that the weight is balanced – and apparently you can take out a bottle and the stack will not collapse. We didn't try it!
We tasted 6 different wines:
Classique Brut
Délice Nector Sec
Brut Reserve
Brut Rosé
Blanc de Blancs
Absolu Dosage Zero.
The Absolu was my favorite, though all were pretty tasty
A well organized cellar parts and hoses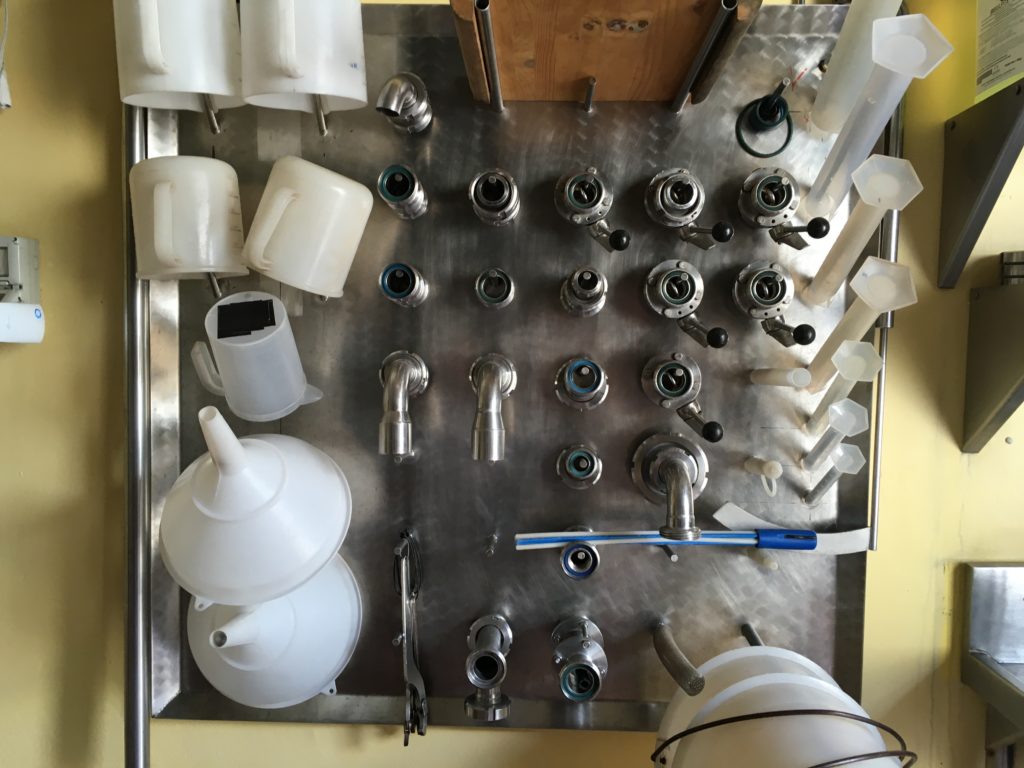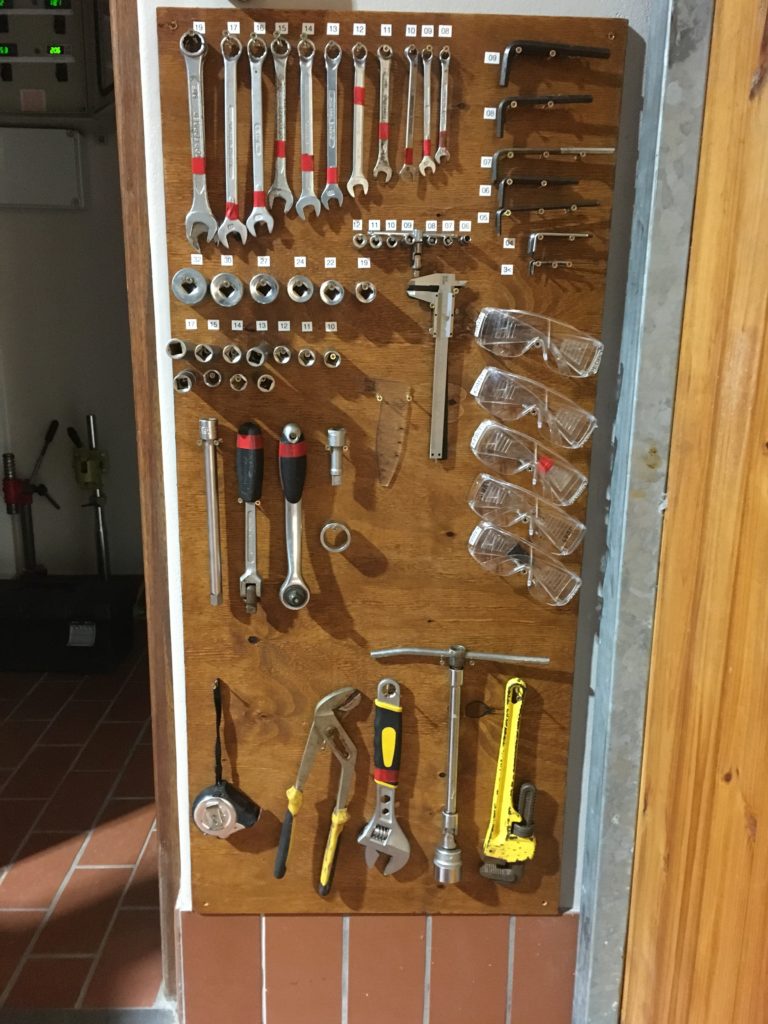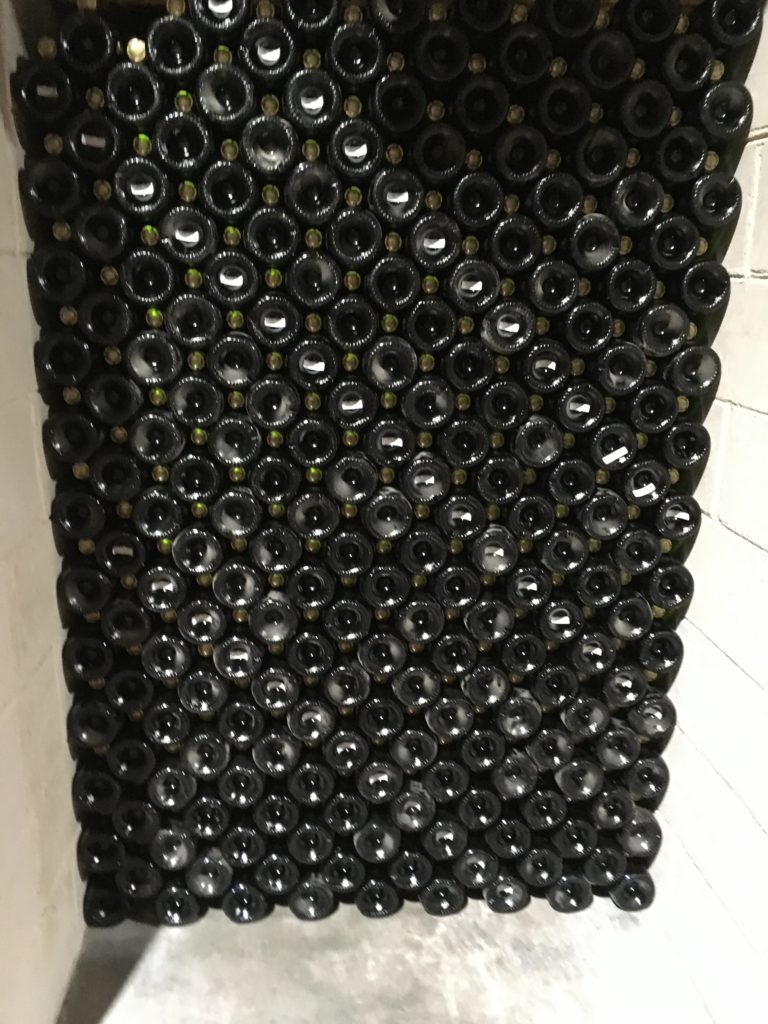 After our tasting we were taken to the little town of Franschoek for a little bit of souvenir buying and enjoying the small town. Franschoek (French corner) is a small town  and one of the oldest towns in South Africa. Formerly known as Oliphants hoek (as there were vast groups of elephants roaming the valley).
Back to the hotel for a quick break and to freshen up for our next and last luxury dinner at Delaine Graff.
All I can say is WOW!
This Estate serves as a remarkable art gallery, with more than 400 works from Laurence Graff's private collection on display. The Vladimir Tretchikoff's iconic Chinese Girl painting is at the entrance to their main building.
The gardens are scatterd with amazing sculptures.
The picture was taken at dusk, so you can only see the outline – gorgeous.
Once again we had an absolutely amazing meal with delicious wines! A great last dinner on this amazing tour!
Back to the Lanzerac hotel for our last night of sheer luxry!