We have resumed our Blending Classes
However, due to the fact that Amador County has now fallen back into the CA RED COVID Zone, we have to do our pouring outside. In the event the weather is forecasted to be inclement*, we will need to reschedule the classes. 
We will notify you at least 24 hours in advance of a potential reschedule.
*Inclement Weather can include precipitation, winds or very cool temperatures.
(See Our COVID guidelines below)
In many fields, music and art as examples, numerous people have a natural talent. Wine Blending is similarly a talent.  Mixing specific amounts of different wines produces blends with interesting nuances and tastes.
In the class, you'll taste one of our popular blends, while Corinne shares some blending and wine-making experiences. Then, you'll taste our three single varietal wines. Now, using these single varietal wines, you'll mix several different blends to see which you like best
Once you discover your preferred blend, you can take home a bottle of your very own creation!
It's a fun, educational and interesting experience.
We charge: $60/person, $100/for 2. Buy it now!
It includes an approximately 2 hour seminar and a take-home bottle of your unique blend. Discounts are available for parties of 2 or more – call us @ 209-783-5049 for more details. 
Upcoming Wine Blending Classes:
November 22nd, 2020 – Noon till 2pm 

FULL
****NOTE: Our Classes are held year round on most Sundays check back often for updated schedule
If none of these dates work, please call 209-783-5049, or email corinne@winetreefarm.com for reservations. (We do offer private sessions on request.)
To comply with safe distancing and CA rules, we will have classes outdoors! So, we are reducing the number of attendees for each class. Each group will be seated at their own table, separated from any other group. If you would like your group to have separate tables, please make that request when making your reservation.
Because of limited space availability we request that you check our calendar of available dates and open seats and schedule well in advance.
We thank you for your consideration and hope to see you at one of our upcoming blending classes.
Be assured we are following the State and Amador County's re-opening policies, as appropriate for our classes, to prevent the spread of the COVID virus.
Tasting stations (tasting bars, tables, chairs, etc.) will be sanitized after each use

Physical distancing policies and procedures will be in place at all times

Frequent touch points (door handles, counter tops, payment devices, pens, etc.) will be frequently sanitized

Restrooms and other common areas will be sanitized at least every hour

Face coverings are requested and encouraged while not actively tasting

Meticulous hand hygiene is required of our staff and requested of guests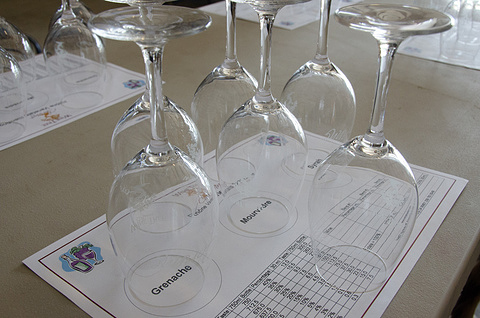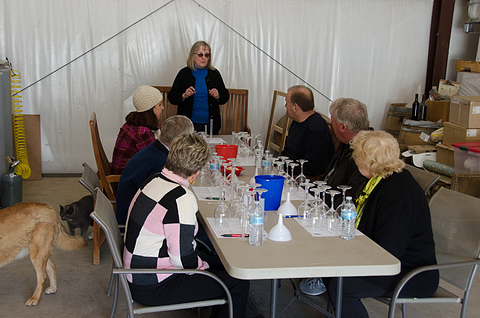 Pouring Wine for Blending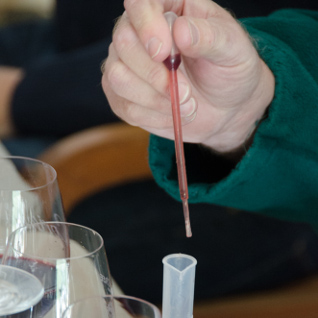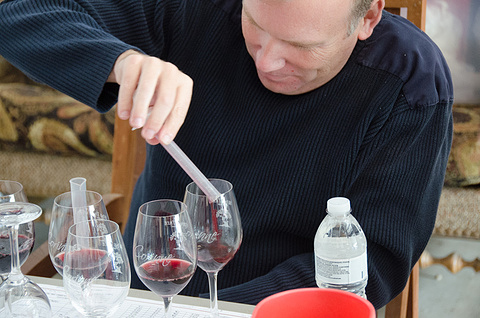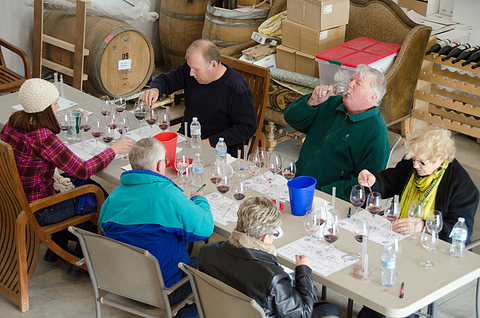 Definitely a Talented Class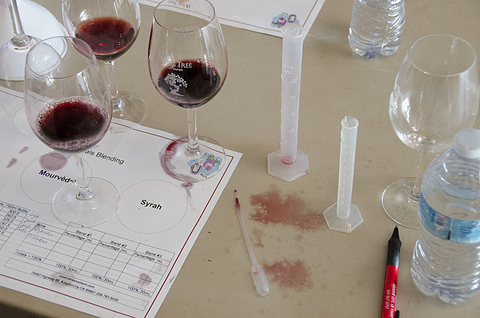 A Busy Blender's Work Place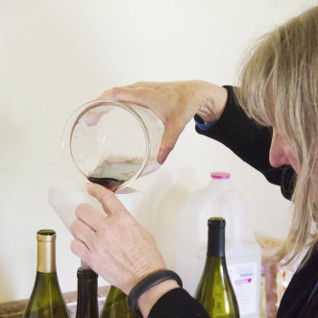 Corinne makes a Bottle of your Blend