Last days in Cape Town
Day 18, 19, 20 - Our Last Days in Cape Town - and Day 21 Flying back to Sacramento
End of Day 18, Friday Night, November 25th
Our wine tour bus driver dropped us off at our Hotel Portswood in the V&A (Victoria & Alfred) Waterfront.
We checked in and after a brief rest we decided to go to the Waterfront, otherwise we would both have gone to sleep and it was only 6 o'clock!
Penny wanted to buy a new suitcase, as she had accumulated lots of wine and gifts and and her suitcase was falling apart. So off we went to the Waterfront to do some old fashioned mall shopping. The Mall is huge, just like any other major mall in any other big city.
We found a really good deal on a 3-piece luggage set. I tried to persuade Penny that she only needed one. So we trudged around the mall trying to find a better deal, but she liked the set and it was on sale for 30% off, so we went back to the store so she could buy the set.
She decided to ditch her current suitcase and  carry-on and use the 3-piece instead.
It landed up being a good choice, as the new luggage all had the 4 wheels, so wheeling them around was much easier!
Now, as we were both getting hungry, we broke down and had some fast food at one the fast food places. What a let down, after all the gourmet food we had been eating for last 5 days!
Went back to the hotel and got a bottle of wine to take to our room.
Good Night!
Following photo's are stolen from the Portswood and V&A Waterfront web sites as I neglected to take any!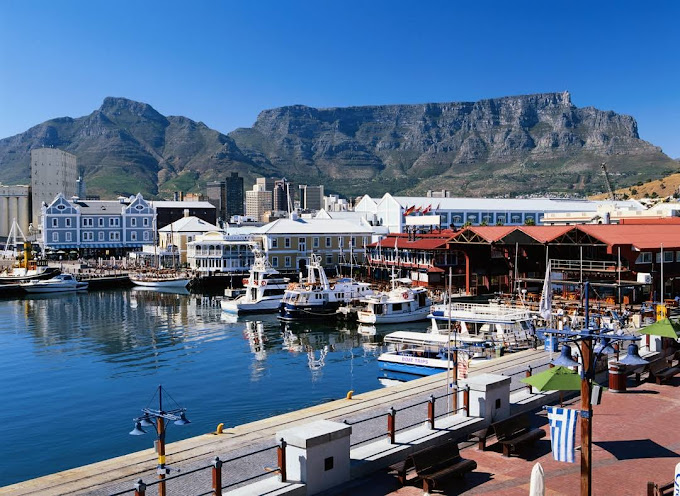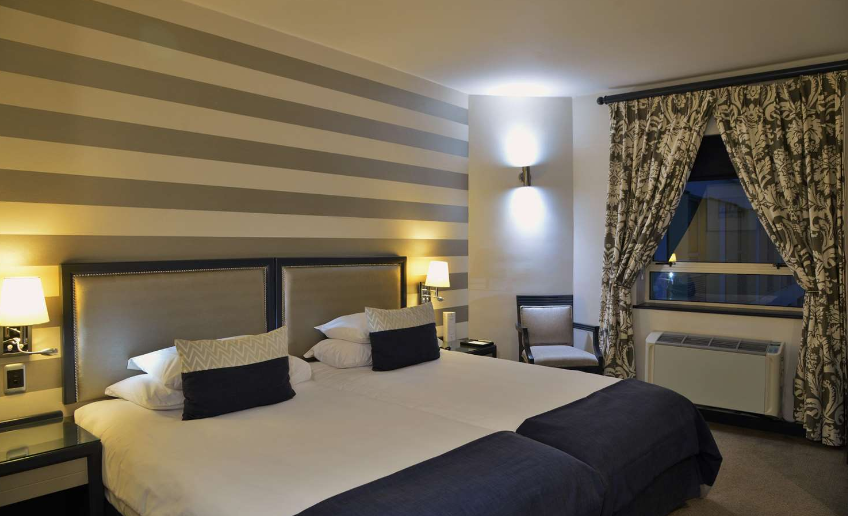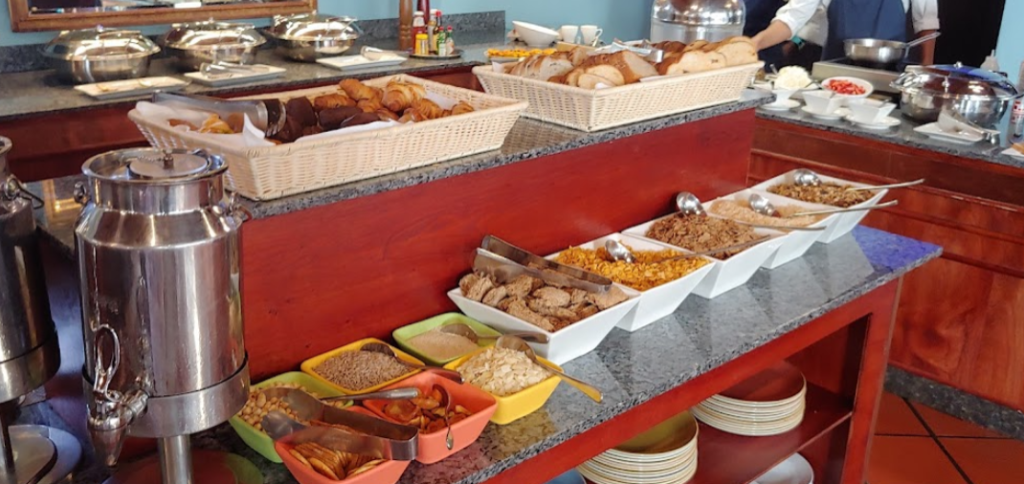 Day 19, Saturday November 26th
Our, or should I say, my original plan was to go up Table Mountain. But Penny had assured me that that was never going to happen as she is deathly afraid of heights. So we thought we would get on one of those touristy – hop on and hop off buses – to go to Cape Point, Kirstenbosch gardens or even a boat trip to Robben Island.
But by this time we were both so burnt out from rushing here and rushing there that we decided to take a few hours off.
After breakfast, Penny used the rest of the morning to rearrange all her luggage and I went back to the Mall to pick up some gifts.
At 4pm, my cousin Justin Moore picked us up at our Hotel to take us to a Braai at his daughter, Jennifer's house in Newlands (a suburb of Cape Town). He and his wife Caroline were staying there to pet/child and house sit as Jennifer and her husband were at a wedding out of the area. It was so nice to meet Jennifer's 2 daughters.
Caroline had helped me so much in organizing what we would be doing our last 2 days.
At the braai, another cousin Colleen, came to visit, too. I had not seen her for more than 40 years, as she always lived in Cape Town, and I was always in Johannesburg. What a wonderful family reunion. 
The Braai was delicious. And the wine was flowing.
Another great day in Cape Town.
Justin took us back to our hotel for our last night in Cape Town – AND the last night of our magical trip to South Africa!
(I can't believe that I did not take one photo!)
Day 20, our last day Sunday, November 27th
Our last day in Cape Town, South Africa.
After breakfast, we started packing, as we needed to check out of the Hotel. (Our flight was only at Midnight, but the hotel staff agreed to keep our luggage until we had to go to the airport.)
We asked the Staff if they had a scale, as we were unsure how heavy our luggage was. They told us that when they picked up our luggage and brought it down to the lobby, they would have someone help us.
When we were ready, we got the porter to pick up our bags – and Penny told him he could have her old suitcase and carryon bag. He was delighted! She had to sign a note for his manager to say she had given him the bags.
So down in the lobby, we have the 2 porter guys using one of those hand held scales checking the weight of our luggage. Of course mine and Penny's big suitcase were all overweight – so here we are in the lobby rearranging our luggage with the help of the 2 porters! We were able to distribute the weight to be under 50lbs each!
Now that that was done, we waited for Justin and Caroline to pick us up for our next and last adventure.
We arrived at this gorgeous winery with a beautiful view of False Bay.
The tasting lounge was closed. So we went straight into lunch at the Chorus Restaurant.
Jennifer and her husband, Michael, joined us, as they had returned from their trip out of the area. It was great to meet her and Michael.
We decided to have the 4-course meal without the wine tasting, and choose our own wines for the table.
We chose their:
2021 Circle of Life White, a blend of 57% Sauvignon Blanc, 39% Chenin Blanc and 4% Semillon.
For the red, we chose the:
2020 Circle of Life Red – 38% Cabernet Franc, 28% Merlot, 18% Syrah and 16% Petite Verdot.
As usual, the food was delicious!
After lunch Justin and Caroline drove us back to our hotel.
What an absolute wonderful end to our South Africa adventure.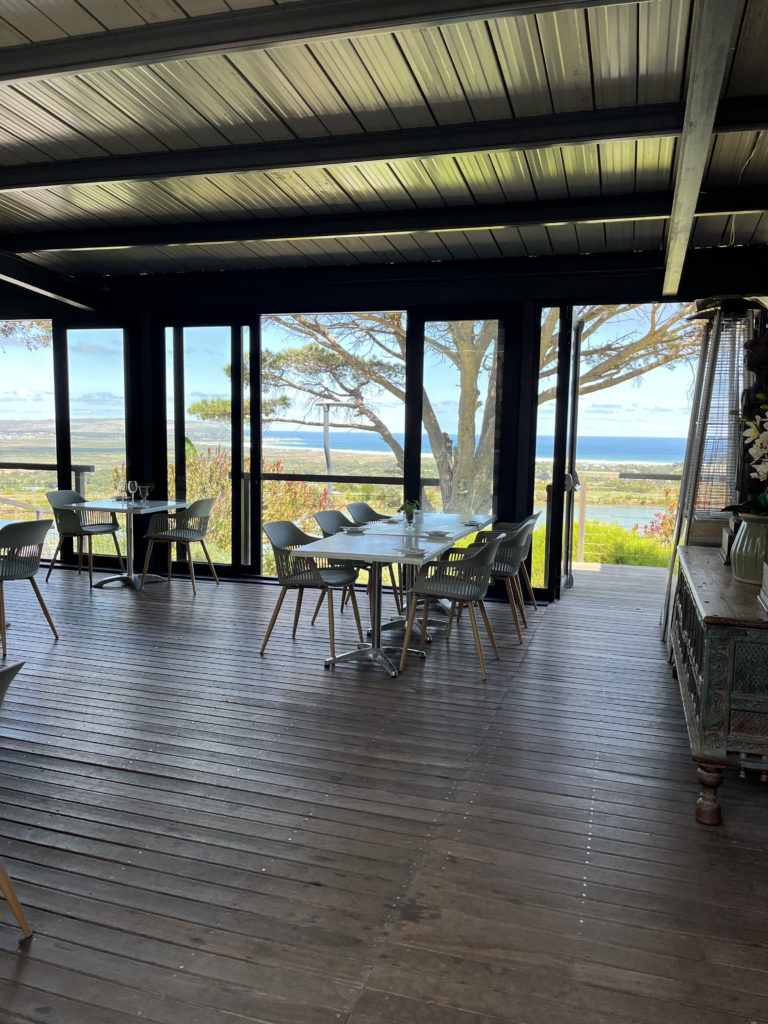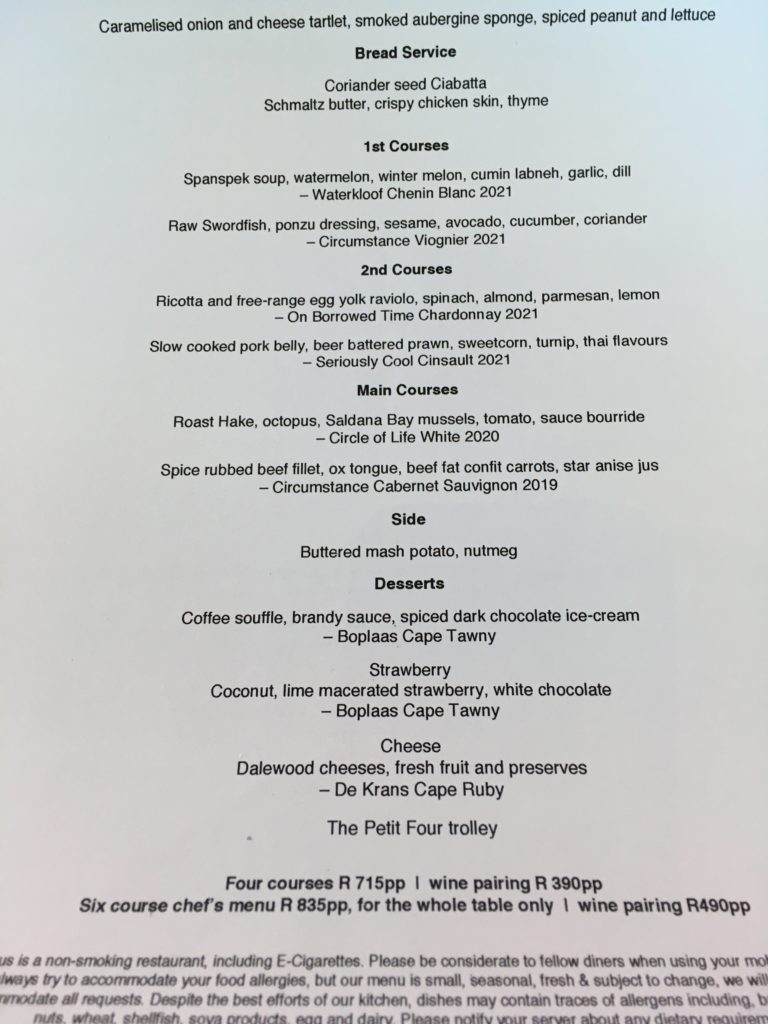 We had already checked out of our hotel, but planned to hang out at the hotel until we had to UBER to the Airport. Our flihght was at 12:45am Monday morning.
We still had a couple of hours so I went to the Concierge and asked if there was a place we could sit and watch TV. They pointed out the areas, but warned us that everyone would be watching the Worlld Cup Soccer, so we would not be able to change the channel. However, they agreed to give us a room for free for the next 2 hours! Again, just wonderful South African hospitality!
We decided to go to the Airport early and do some last minute duty-free shopping. 
Although our reservations were with Delta, our flight  to Amsterdam was with KLM, a Delta partner.
Day 21, Monday, November 28th, Flying back to Sacramento
The flight to Amsterdam was uneventful, as we slept most of the time.
But once we arrived at Amsterdam Airport Schiphol we had issues!
I had been alerted by Delta that security at Schiphol was lengthy, but as we were only transferring, we did not think it would be a problem – but it was!
For some reason, even although we were transferring, they insisted we all go through security again. But they only had 1 security gate open, so we were in line for a while. Everyone was bitching at the Airport personnel, as everyone had a tight connection, but they didn't seem to care. They were very rude!
Penny got so upset that she called KLM and complained bitterly to them. The folks in line were cheering her on!
At last we got through security, and now we had to run to make our flight to Minneapolis. They had already closed the gates, but held them for all of us that were on the flight from Cape Town. Had to be the worst experience at an Airport that I have ever had.
Next stop Minneapolis. The flight was not bad, but by this time both Penny and I were tired and a little moody!
In Minneapolis, we had to go through customs. So we had to find our luggage and take it through customs then load our luggage back on the conveyor belt to go to Sacramento. In all the confusion, Penny accidentally loaded her hand luggage on the belt and it was gone with the rest of the luggage. But as it did not have tags, the airport folk would not know what to do with it. We were assured that unmarked bags would land up at the Delta service counter.
We had a 4-hour layover, so we were sure the bag wouuld arrive in time for our flight. But it was getting close. The Delta folk had all of Penny's info and said they would forward the bag to Sacramento either in time to catch the same plane or a later plane. Penny was a little concerned as her medication was in her hand luggage.
But we boarded the plane and still no sight of her hand luggage. Now to make things worse, Penny was in the middle seat for this leg and the guy next to her was one of those that should have bought 2 seats! Penny made sure he did not hog her armrest – but by the end of the flight they were chatting like old friends.
Yay, Penny's hand luggage was on the plane so all is well that ends well.
We were picked up at the Airport by our friend Dick Minnis to take us home!
What an adventure.
This trip could not have been any better. Definitely a trip of a lifetime!