Off_to_Durban
Day 5, Saturday November 12, 2022
Stacey took us to the Lanseria Airport for our flight to Durban. Wendy had mentioned that her sister, Robyn was on the same flight! 
When we got to Durban Airport, we connected with Robyn. Robyn's daughter, Megz, was there to pick up her mom, and give us a ride to Wendy's place.
We were now in hot, humid Durban.
After arriving at Wendy's place in Ballito (north of Durban), we spent time catching up.
Her grandson called out about a snake on her wall. What a pretty snake. A bush snake.
Monkeys are a serious pest in these parts – and Penny, the ultimate animal lover, had to find some. We threatened her with bodily harm if she a) tried to touch one and b) begged to take one home. 🙂
So we went for a walk on the Golf Course and saw many mom's with babies sometimes twins. These monkeys will get into any open window looking for food and one made it into Wendy's house, but she was able to shoo it away quickly!
After our walk we sat on the patio and enjoyed some South African white wine – Noble Savage Sauvignon Blanc. before Wendy served us Bobotie, a typical South African dish, with another bottle of South African Wine – A Shiraz/Pinotage blend by Kleine Rust.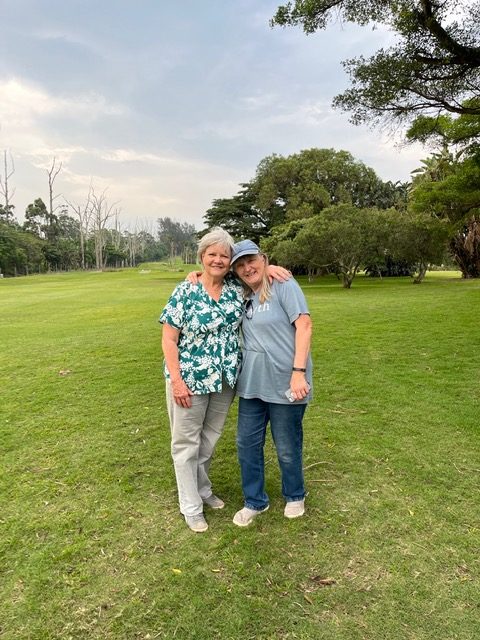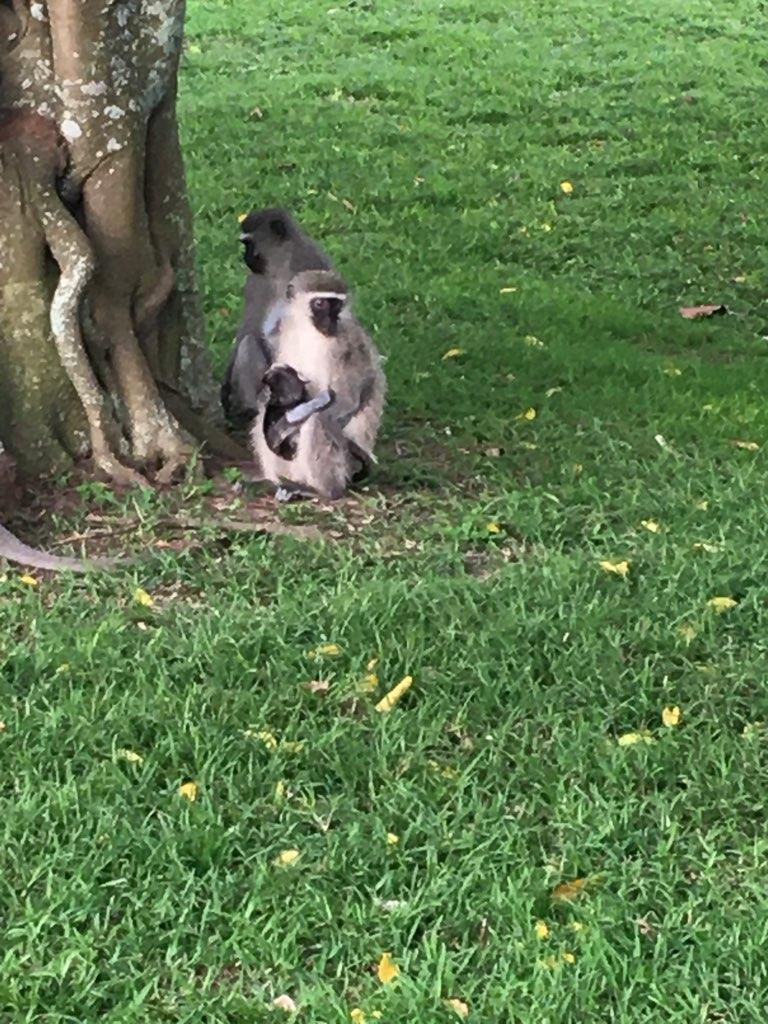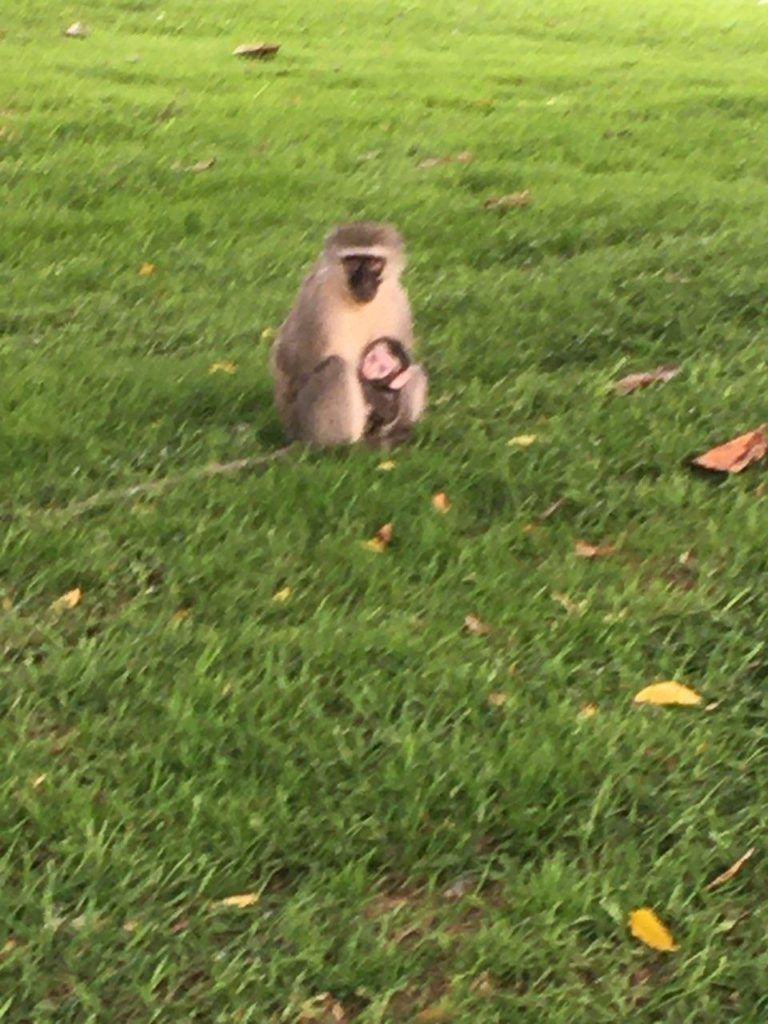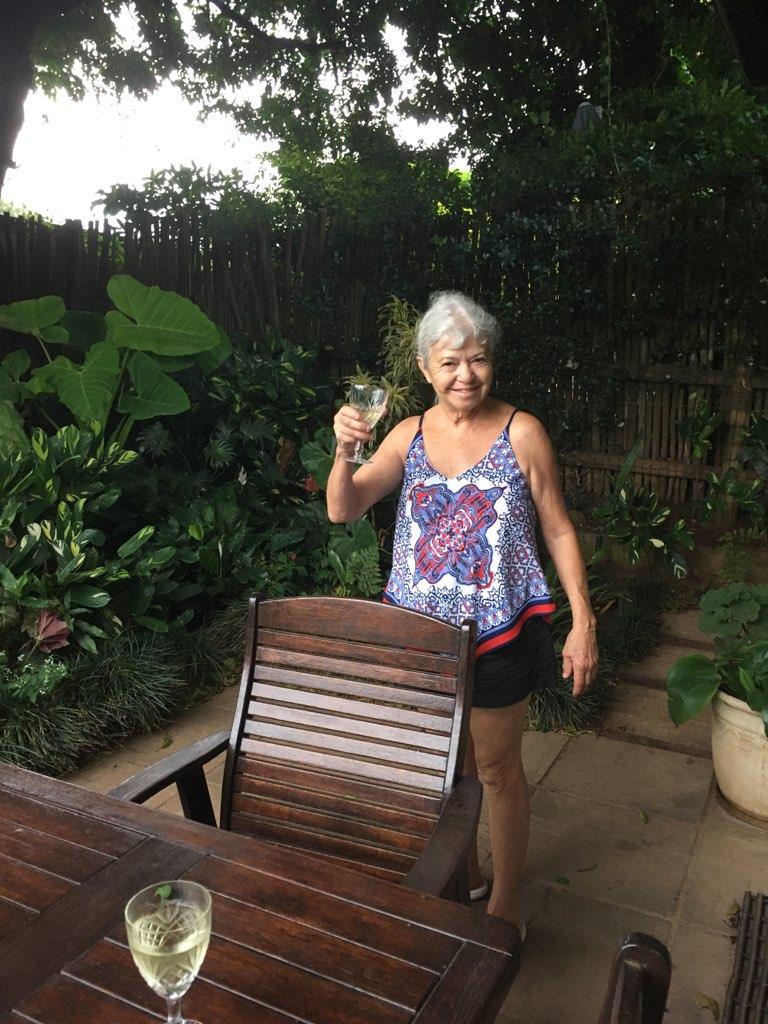 Day 6, Sunday November 13th, 2022
Next day we drove around viewing these gorgeous beach side homes before stopping at a Restaurant – Taso's – on the Beach in Ballito. We were joined by Wendy's grand daughter and her ex husband Dan. Penny entertained her grand daughter with pictures of all Penny's animals, while Dan, Wendy and I caught up 
I had a lamb curry which was delicious!
A strange thing happened on the way to the Restaurant – Wendy and I were chatting about past people we knew and I mentioned Paul Pijnappel and another guy I dated called Graham Jordi. Wendy asked how I spelled 'Jordi' and said she had a friend living in her complex called Peter Jordi. I said I had dated Peter, too, millions of years ago. So Wendy had to call him and sure enough it is one and the same Peter Jordi.
What a complete coincidence! So later that evening Peter came by and we were both in shock. He brought some old pictures of the 2 of us and his 21st birthday – so you know how long ago that was! It was a kick. (I did take a pictures of the pictures, but for some reason, I lost them:-(
He has created a beautiful book of animal & nature photo's and Penny bought one. (see picture of cover below.)
Ding, Wendy's other bridesmaid arrived – she would be joining us on our game trip. So the rest of the evening we started to get our 'stuff' togehter for the next days trip to the Game Park.