Wine_Tour_Day4
Day 16, Wednesday, November 23rd - Day 4 of our Wine Tour
We checked out of the hotel and boarded the bus for our 4th day of Wine Tasting – First Stop Hamiton Russell Vineyards.
Hamilton Russell Vineyards
This Estate's Vineyards are divided into 3 different areas, each with their own characteristics:
Ashbourne: Featuring Sauvignon ad Pinotage blends
Hamilton Russell focuses on Chardonnay and Pinot Noir
Southern Right – which is the closest vineyard to the Ocean features Sauvignon Blanc and Pinotage.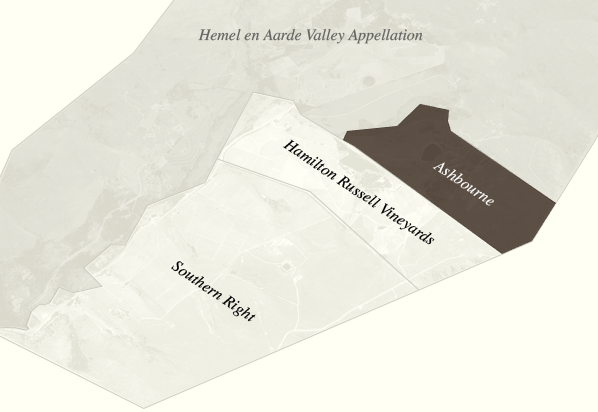 As we arrived we were greated by a gentleman called Anthony – none of us realized this very friendly, knowledgable man was THE Anthony Hamilton Russell!
He started by pouring the Ashbourne Sauvignon Blanc as he explained the different Vineyard characteristics.
We then moved on to the barrel room where he poured us 6 Hamilton Russel wines: 3 Pinot Noir's (2019, 2020 and 2021) and 3 Chardonnay's (2020 and 2021 and an unlabeled 2022), ending with a 2020 Ashbourne Pinotage.
They use a lot of the concrete or Terracota tanks for fermentation.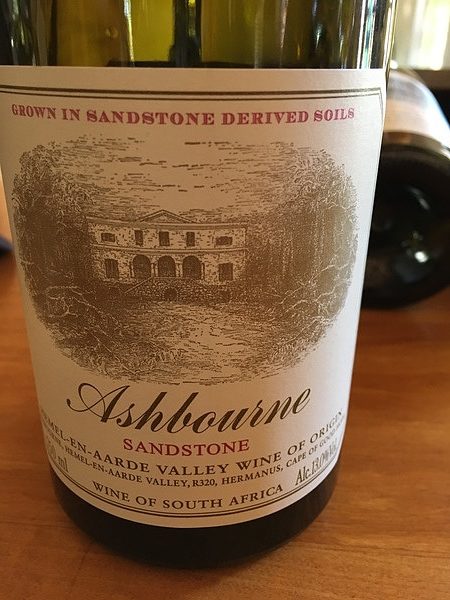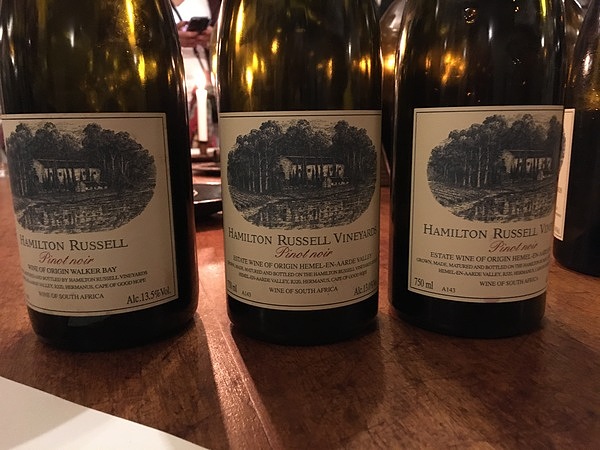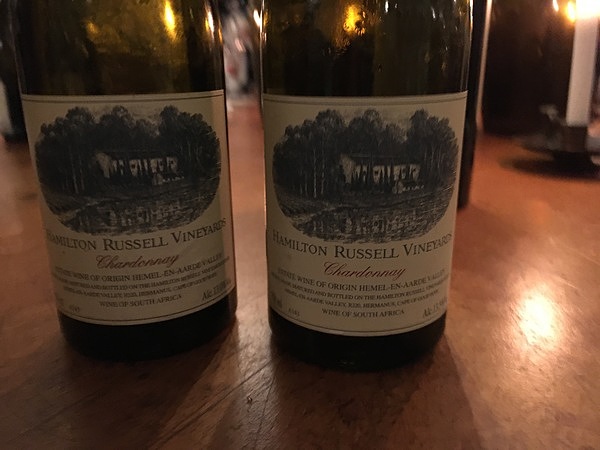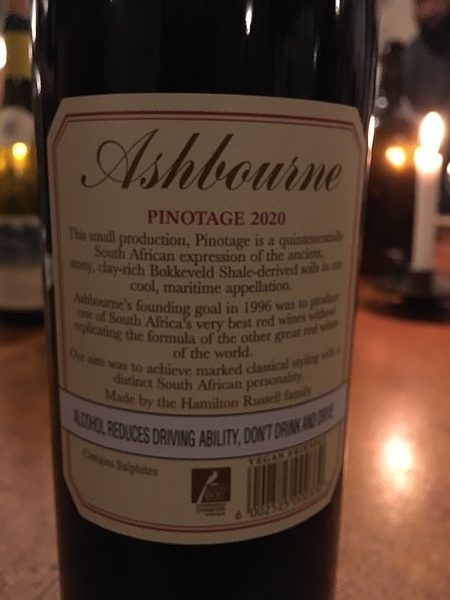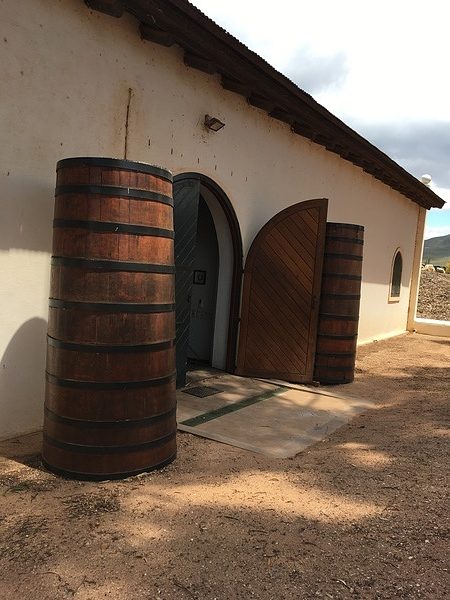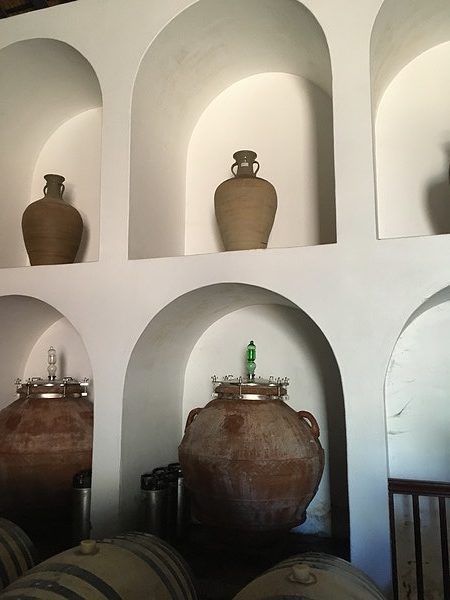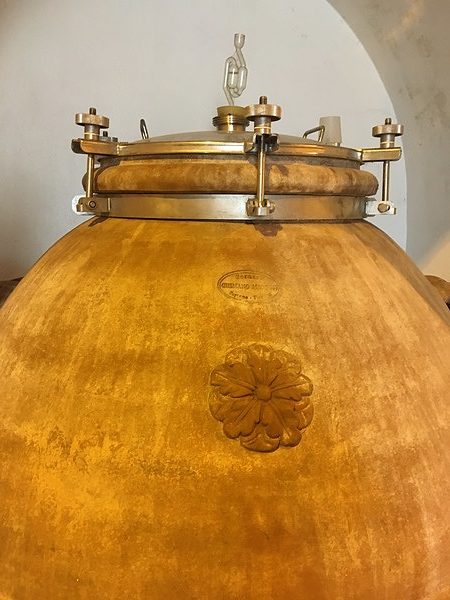 After the cellar tour, we went to lunch with owners, Anthony and his wife Olive. Their house was amazing. Penny was in heaven as they had a big Great Dane she was able to love! We started off in their living room where we enjoyed a Souther Rights Sauvignon Blanc before moving into their gorgeous dining room for lunch. They had had load shedding so Olive apologized for the fact our lunch would be a variation of salads – delicious! Over lunch we enjoyed a 2021 Hanilton Russell Chardonnay and 2 older Hamilton Russell Pinot Noirs – 2005 and 2007. Both were extremely delicious.
We finish lunch with dessert and a glass of their Noble Late Harvest.
How spoiled were we!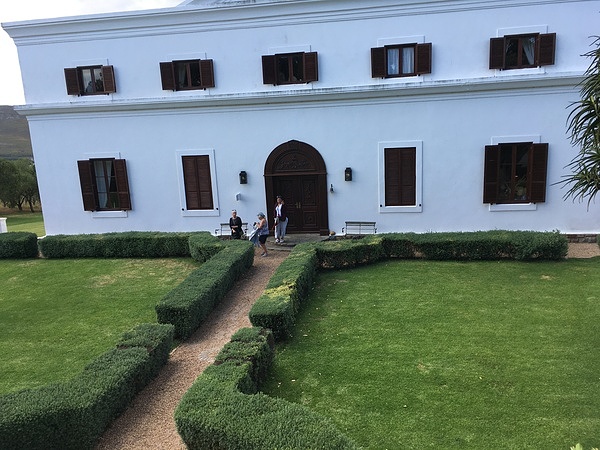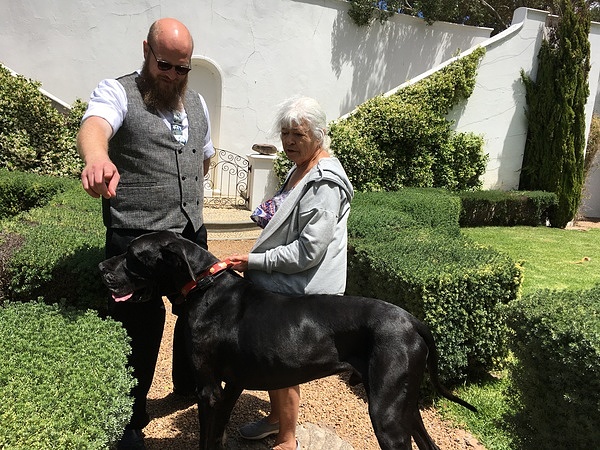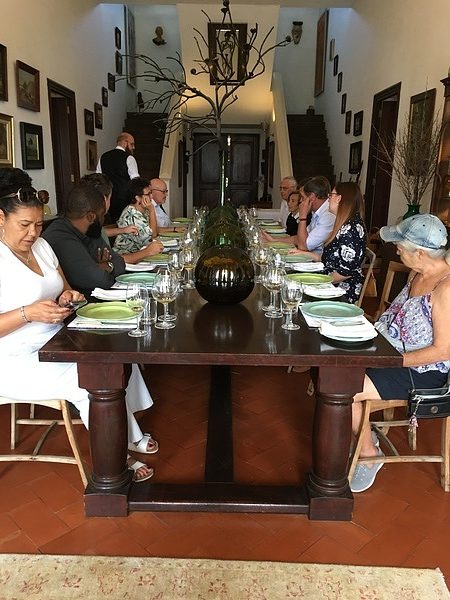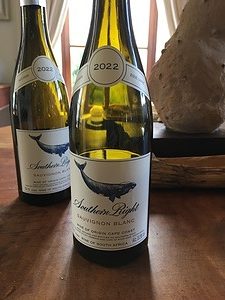 After lunch, back in the bus for our next visit to Ken Forrester – known as the king of Chenin Blanc!
Started with a brief tour of their vineyards, where their vines are called 'bush' vines – head trained in the US. But look how low to the ground they are! Back breaking work for the staff! 
On entering the winery we saw this weather bottle! If you can't read it it says:
Bottle wet = Raining
Bottle dry = not raining
Shadow on the ground = sunny
White on top = snowing
Can't see bottle = foggy
Swinging bottle = windy
Bottle jumping up and down = earthquake
Bottle gone = Tornado!
Once inside we sat down for a generous tasting!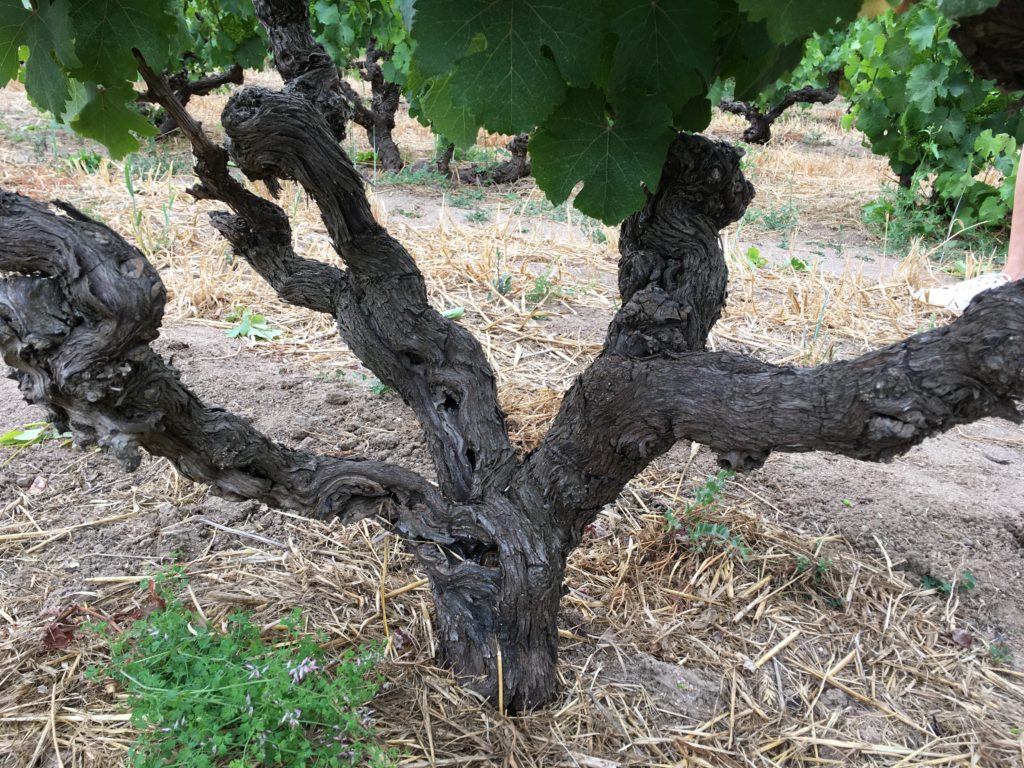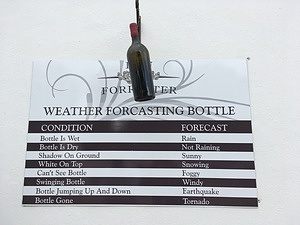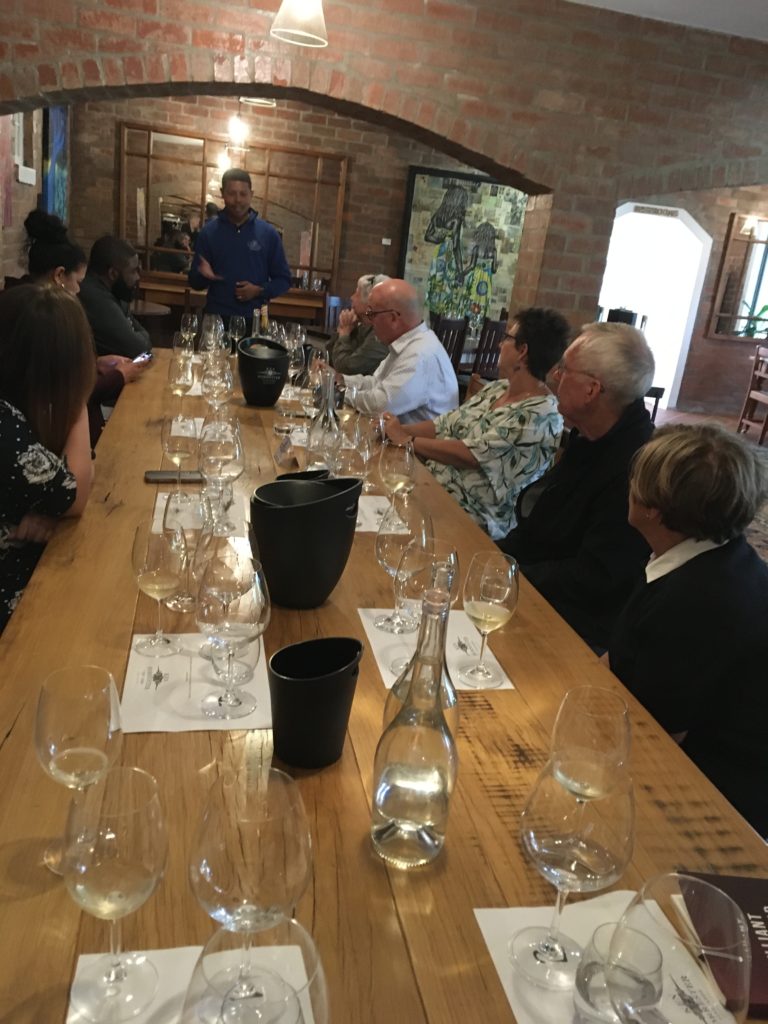 Started the tasting with a Grenache Pet Nat (made in the méthode ancestrale, meaning the wine is bottled before primary fermentation is finished, without the addition of secondary yeasts or sugars.)  We followed with their MCC (Methode Cap Classiqu) Bubbly called Sparklehorse – great label.
Then we tasted 2 Chenin Blancs, a 2012, 2022 followed by a third from the Swartland region – 2020 Terre Noire. Note how here, in the Cape they AGE their white wines. All producers seem to do this.
Next we moved on to 2 wines called Dirty Little Secret #3 and #4. They wouldn't tell us what these wines were as it a secret "-) But it appears these wines come from a vineyard of only 59 vines and very low interruptive winemaking… a natural wine in every sense!
We followed their 2021 FMC – their iconic wine that is part of the old vine project. Finishing with ther 2020 'T' Noble Late Harvest.
As they were the first winery that also grew the Rhône Varietals, the offered to pour me a taste of their 2020 Renegade a blend of Shiraz / Grenache / Mourvèdre. Delightful!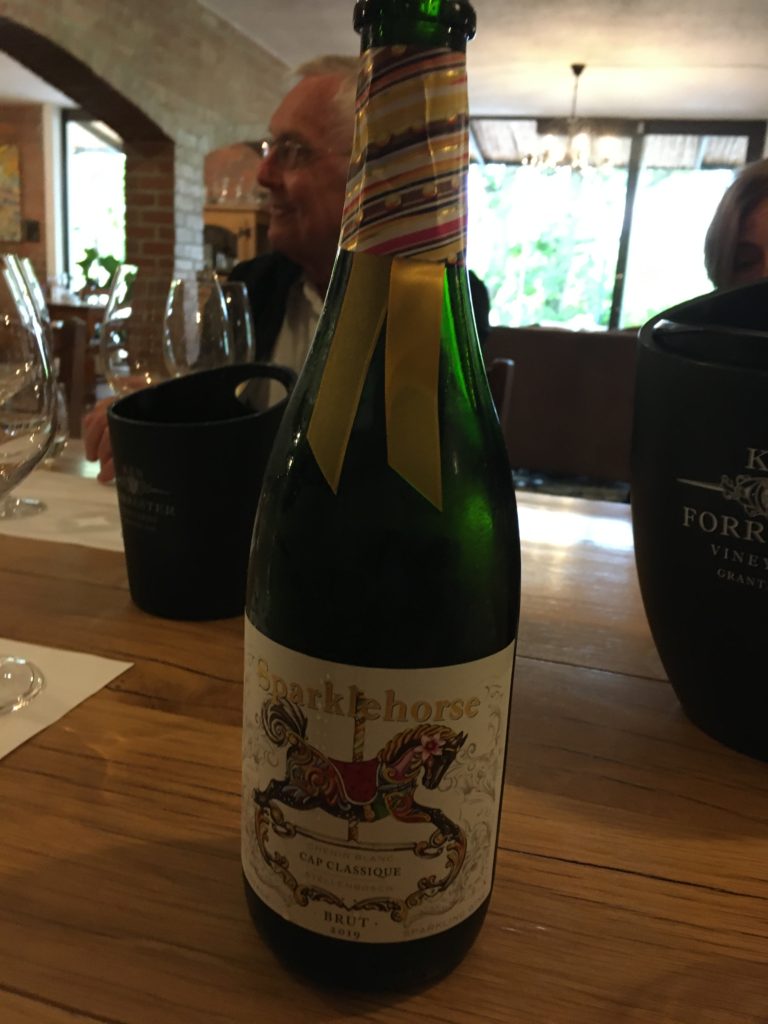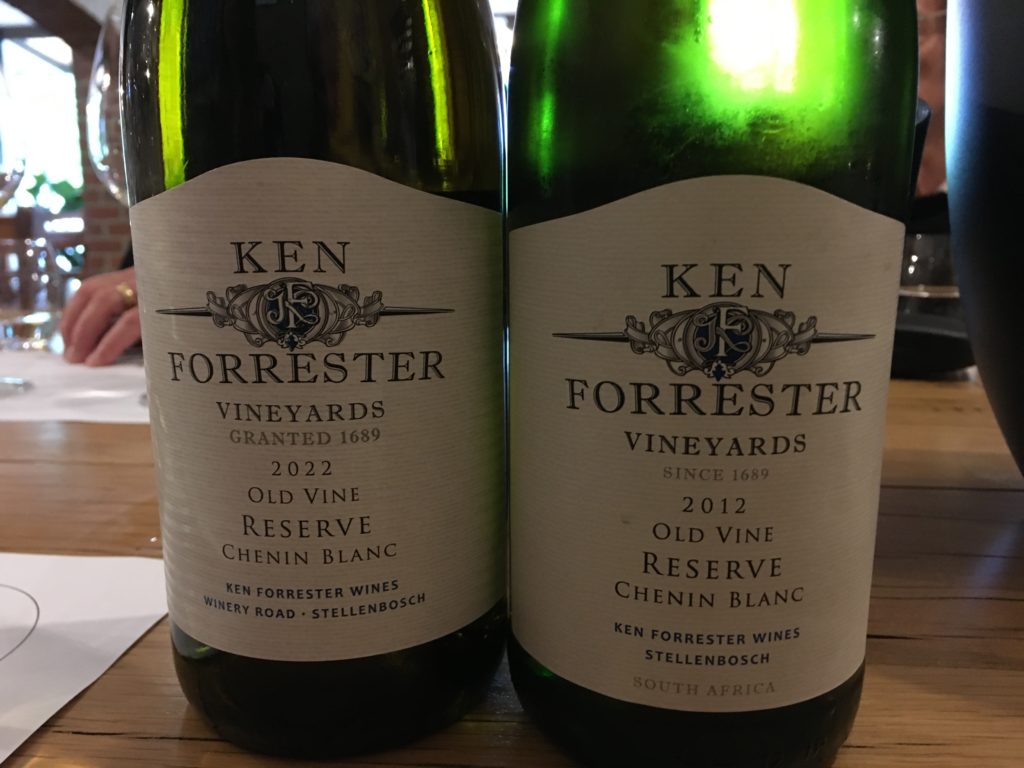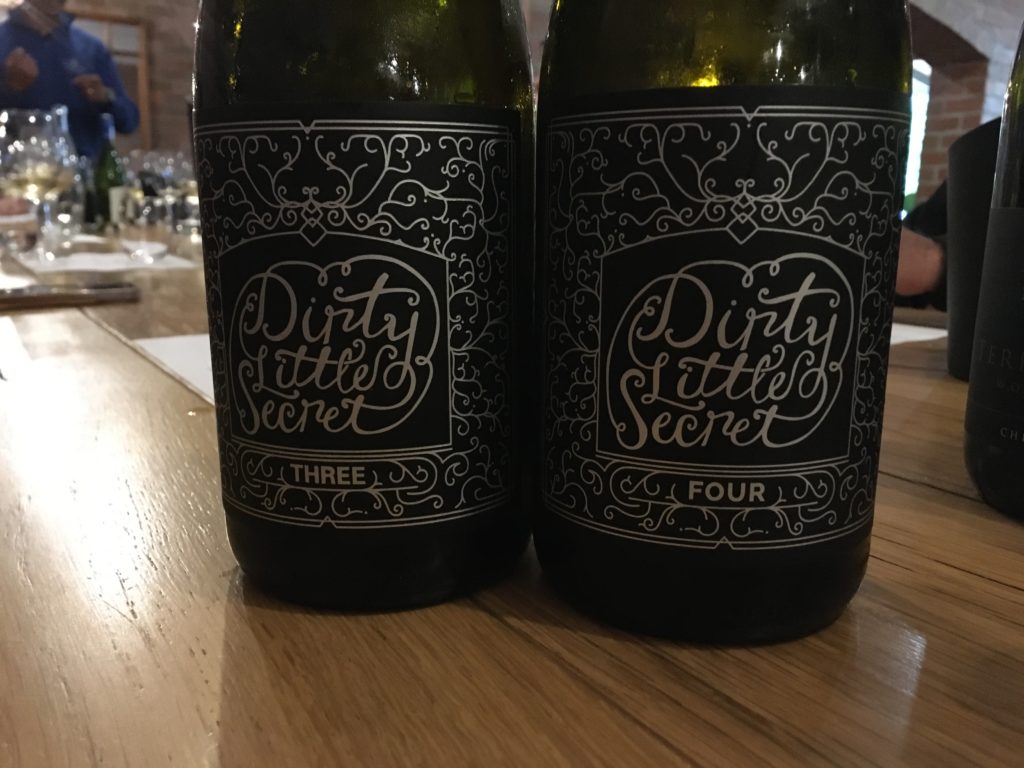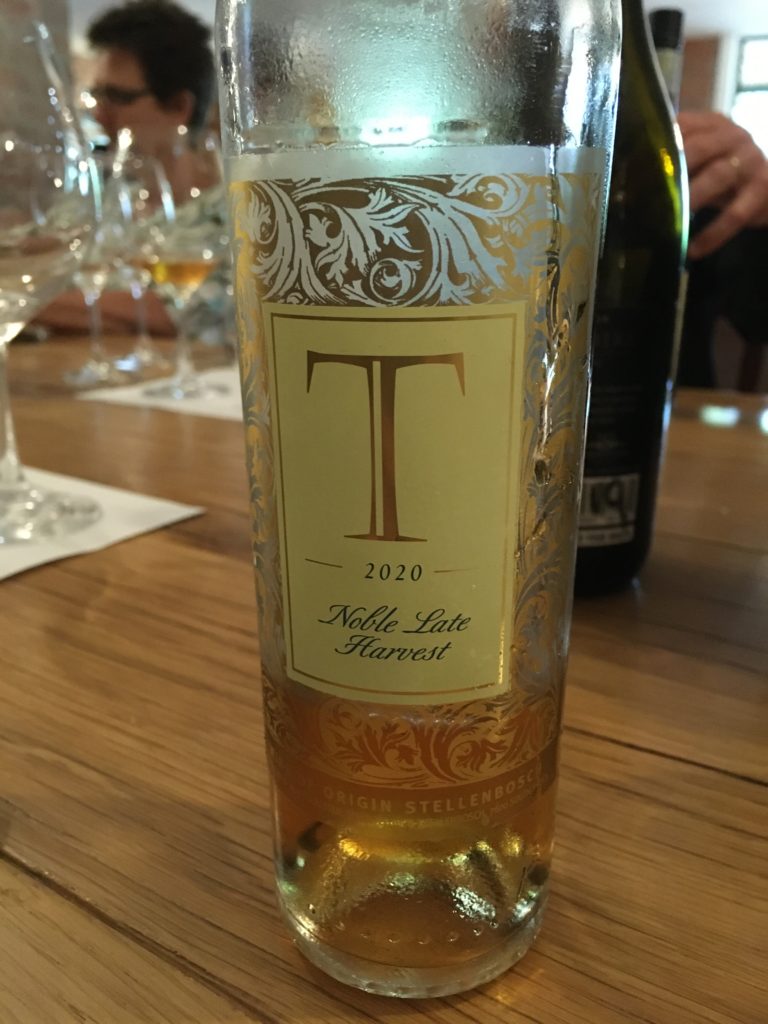 After another great tasting and incredible hospitality, we were back on the bus to check into our next Hotel – Lanzerac – where we had dinner, with wine of course!
Once again our room was luxurious and the porter told us to eat and drink everything in the mini bar as it was all included in our room! Well with all the wine we were drinking, that was not necessary – but we did enjoy a couple of the snacks.
After a short break and a change of clothes, we went to the restuarant for dinner.
First wine was a wine from their 'Keldermeester Versameling' – Cellar Master samplings. It was BergPad (translates to mountain road) and is a Pinot Blanc. The 2nd sampling was the 2018 Kurktrekker (translates to cork puller) – Cinsaut, Alicante Bouchet & Cabernet Franc. First time we saw these grapes in the tasting!
We then had the Lanzerac General, a blend of 65% Cabernet Sauvignon, 15% Malbec, 15% Petit Verdot and 5% Merlot. Finishing our dinner with a 2019 Pinotage.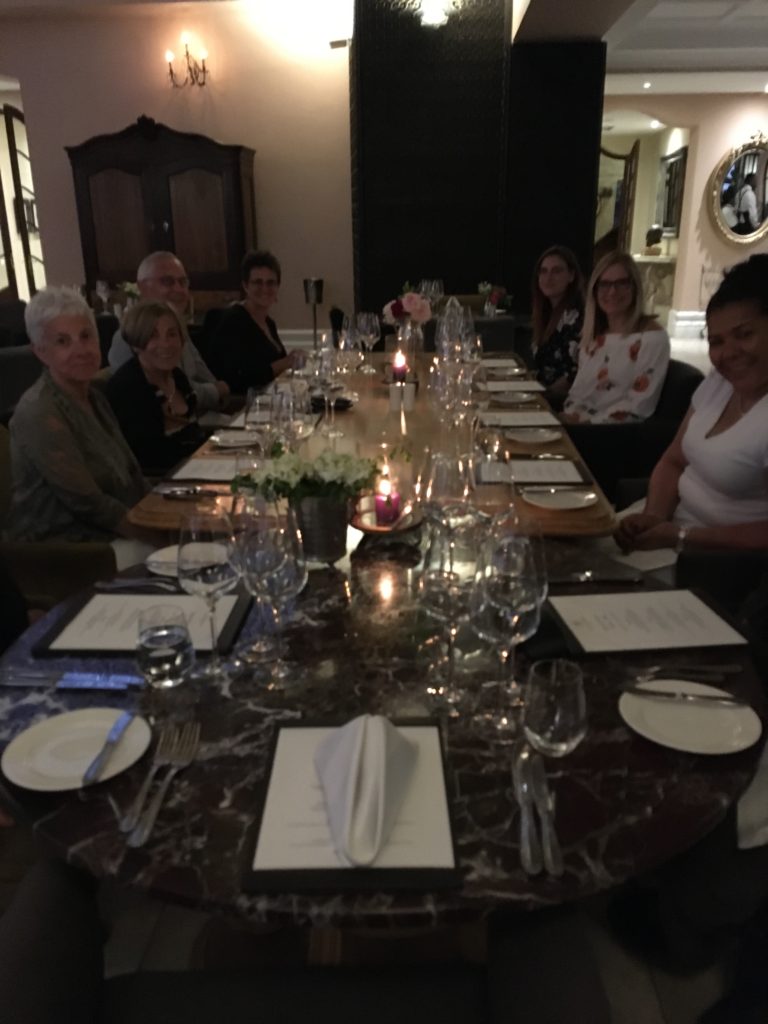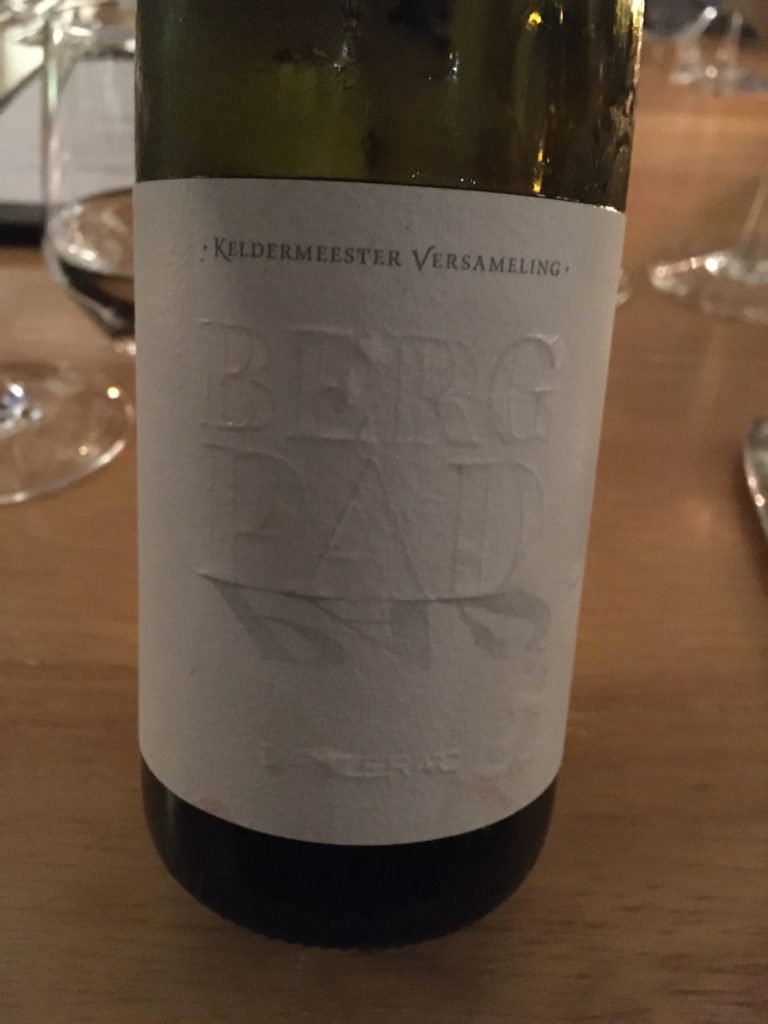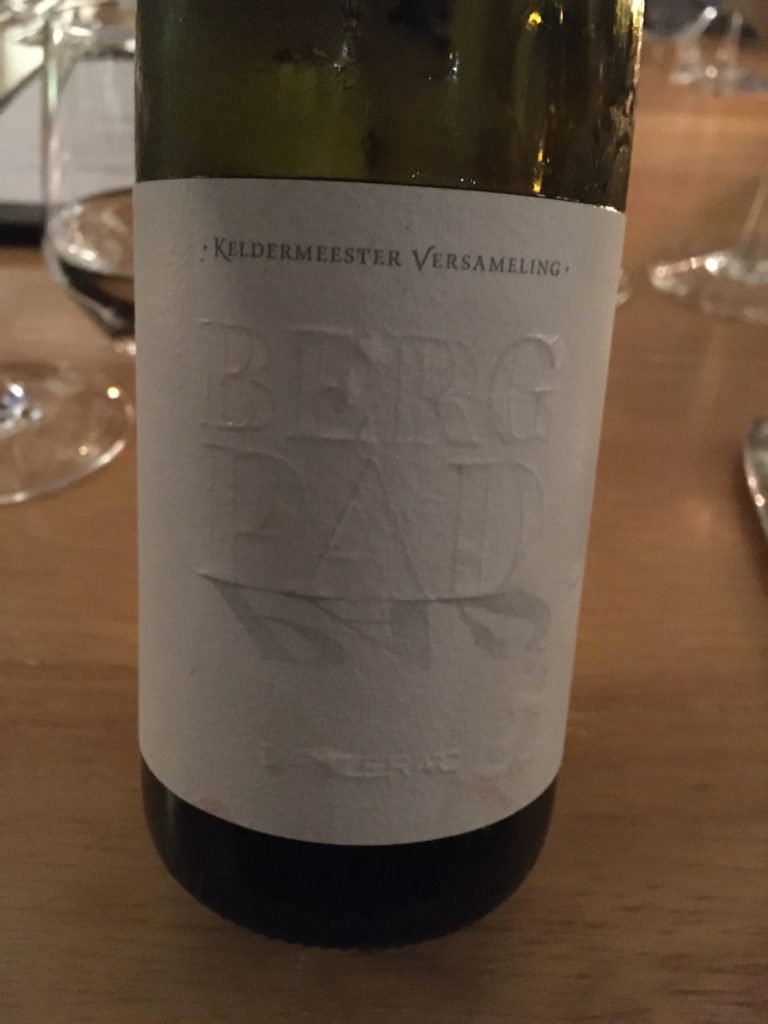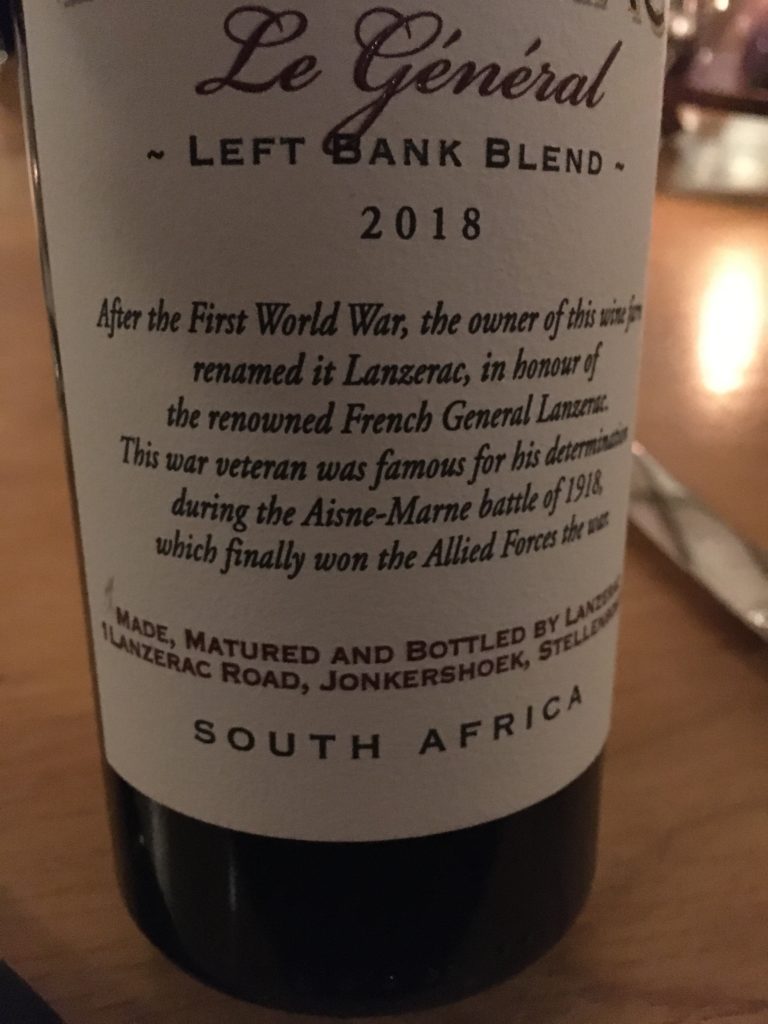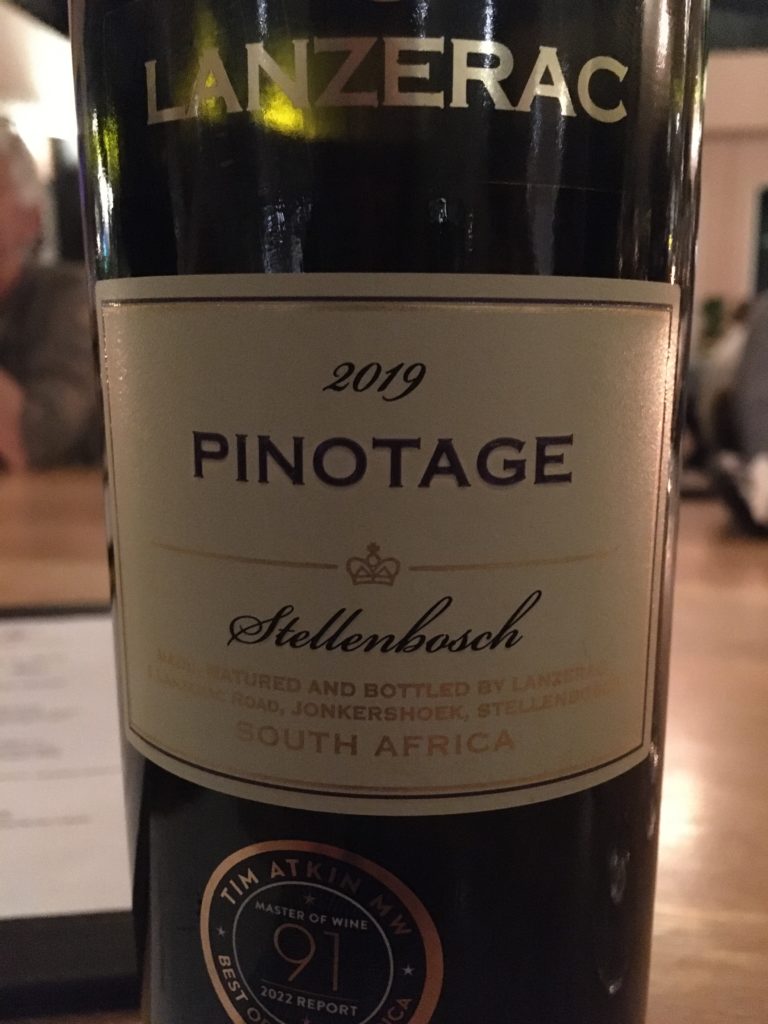 After another glorious day of delicious food, fabulous wine and hospitality we returned to our beautful room for much needed sleep! We needed to rest up for our next day which was jam packed!