Off_to_Sandton
Day 3, november 10th, 2022
We had a breakfast at the Senior community, but could not pay our bill as they were having 'load-shedding' (when the goverment turns off the electricity for a few hours – sometimes, once a day but sometimes 3 times a day!) They had a generator, but their credit card machine would not work with the generator.
So Claire, put our bill on her account and we headed to the airport where I could cash dollars into Rands, pay Claire, and pick up the rental car.
Claire stopped at the departure drop off and I ran to the Bureau-de-change to get money. Claire and Penny waited for me. When I got back to the car, we were meant to drive to the rental car place, but Claire's car wouldn't start – dead battery! So Claire called her husband to help and while they waited for him to help, I walked to the car rental place to pick up the car. They had to be nice to the police, as they wanted them to move the car as it was in a drop off spot and not a parking spot.
It took me forever to get the car, but I finally did and returned to the departure terminal to pick up Penny and our luggage.
Now for the adventure of driving on the left side of the road. Roman gave me a trick – turn short left but long right! It worked. So off to Sandton – we did pay for a GPS system so we did not get lost!
Arrived at Barbara and Stacey's gorgeous apartment – WOW (See video below).
A fabulous view and an unbelievable apartment. It has very strong security and you have to have an app on your phone to let you in or out! We went downstairs to a small restaurant where we had a quick lunch. Spent the rest of the afternoon reconnecting, napping and trying to get all I-phones, and computers charged.
That evening we had dinner at Barbara and Stacey's apartment where we were joined by some horsey friends from the past. (Barbara's grand daughter, Sabrina, is an excellent rider and jumper and has won many prizes.
The folk at the table are me, Greg, Stacey (missing from the table, as she was taking the picture), Barbara, Rogan, Penny, Sabrina and Linda. Greg and Rogan own a stables where Sabrina rides and has her horses. Linda is a rider I knew when I competed, and her Dad had bought one of my horses years ago for her.(she remembered, I didn't :-(. A great dinner. Greg and Rogan (2 gay guys) were hilarious with all their stories.
Shared a bottle of Corinne Syrah and it was met with accolades!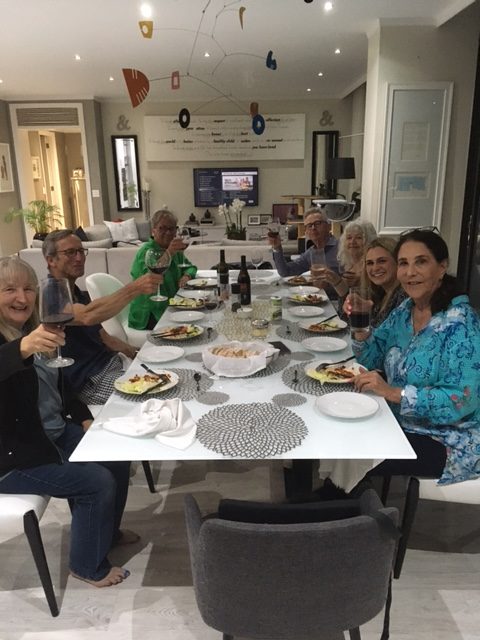 The next morning Stacey made us breakfast and then we headed out to the Stables – but the trip was complicated. Barbara was the navigator and got us so lost! We were meant to meet Sabrina at the stable at 10am, we got there, eventually, at 11:45. Poor Sabrina had a driving test appointment that she could not miss, so we missed seeing her ride and my chance to ride. 🙁
But Rogan gave us a great tour of the property and Greg was riding one of their horses. it was great talking to Rogan about the horsey world now. He showed us the latest technology in bridles and also how the jump poles are now so much lighter. He also showed us his transport truck and said everyone has one these days. (We used to ride to shows:-) Left the stables and Barbara took us past some of my old houses in the Sandton Area, but sadly those houses are now gated communities and no longer there.
The area is so overbuilt from when I was there it was unrecognizable.
We turned in the rental car and got an Uber back to the apartment where we had a nap and then off to dinner.
We went to a fancy seafood place, called the Fishmonger in Illova, where we had Langoustines and wine, of course. Penny had never had Langoustines but she enjoyed them as much as we did!
A great end to the 2 days.
Some of the horses at Langeni
Greg riding, the latest in tack, the lighter poles and the huge Horse Box