From Durban to George
Days 9, 10, 11,12, November 16-19th
Day 9, Wednesday, November 16th, 2022
That morning, as we were getting ready to go to the Airport, Penny bought a wire and beads Rhino head from Wendy.
She called him NORMAN. Norman became our mascot over the rest of the trip. We should have given him an Instagram page, as he would have had many followers!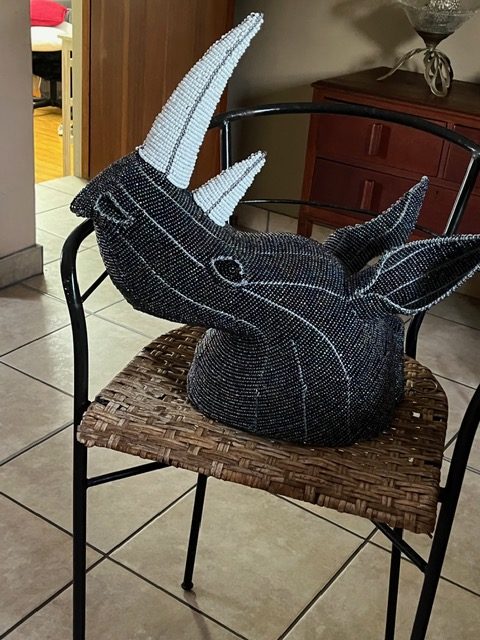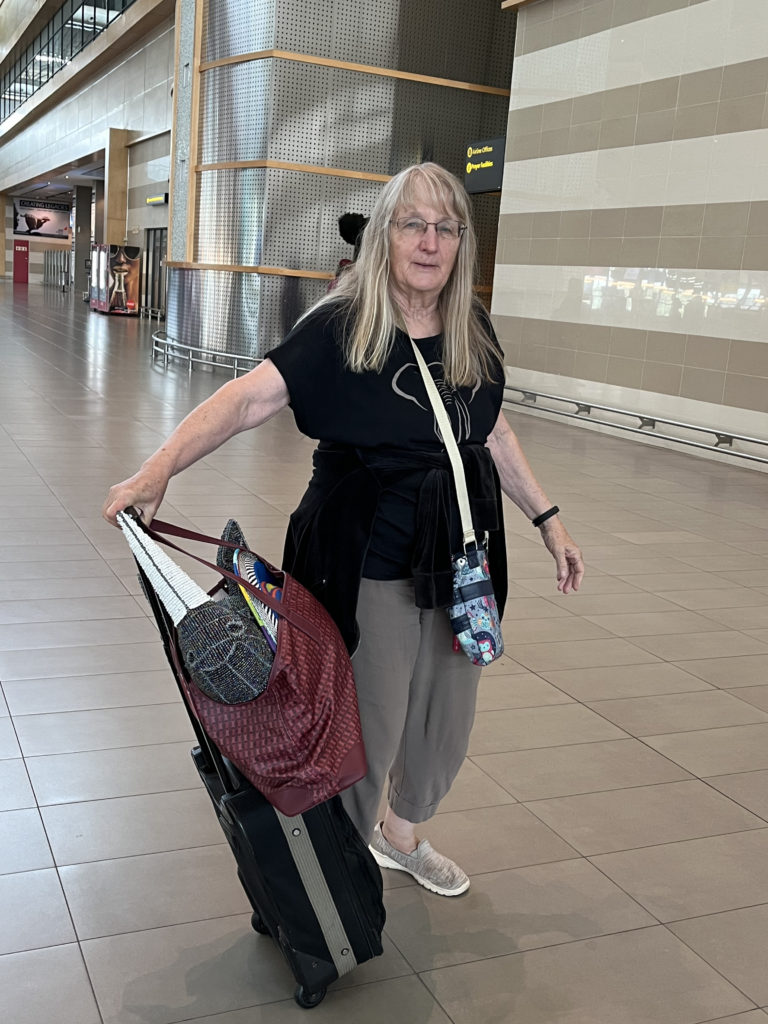 Ding, Wendy's friend drove us to the airport where we met Adele and Vivienne – 2 of my cousins.
We had a great chat, reminiscing on our pasts. Vivienne and her late husband had come to visit us in the US, so I had seen here relatively recently, but Adele and I had probable not seen each other for more than 40 years!
Our flight from Durban was back to Johannesburg then a 2nd flight on to George.
Penny was escorting her Mascot, Norman, to the delight of the airplane crew, who gave him a special place up front with the crew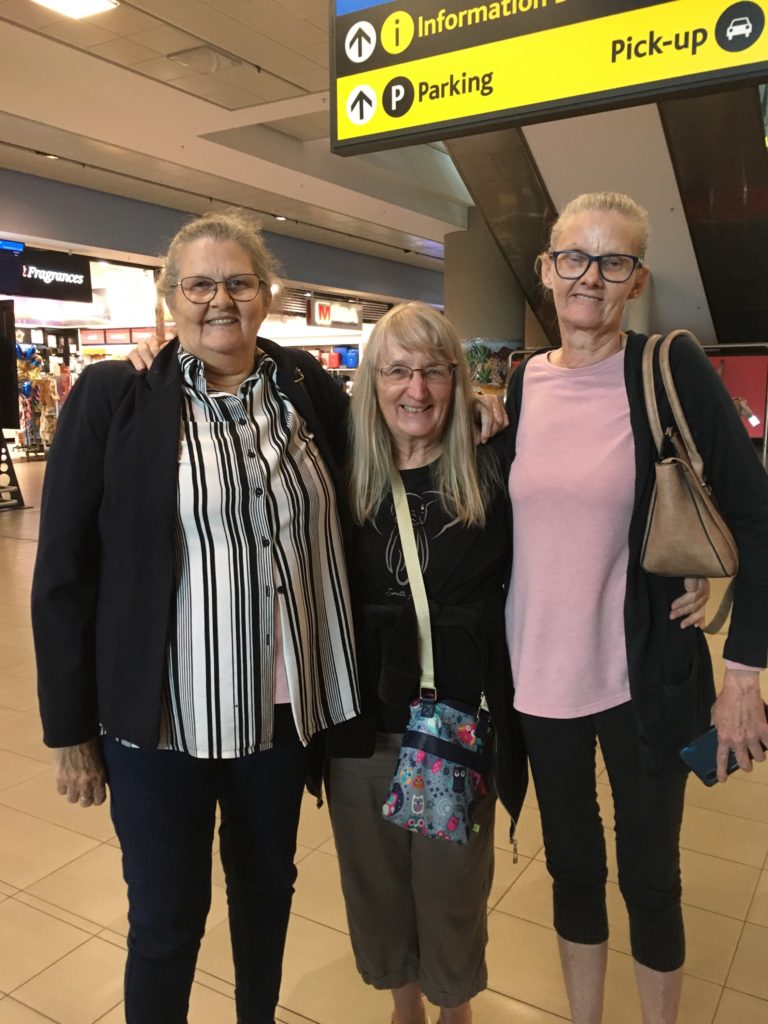 The flight arrived in George, slightly late.
We were met at the airport by cousin Johnny, Marlize and their son Johnny.
(BTW, Johnny is the brother of the 2 sisters, Vivienne and Adele that we met at the Durban Airport).
We arrived at Johnny and Marlize's house and met their cats, their love birds and their African Grey parrot, Miles. Penny was happy!
After some reminiscing Marlize served us a great Lasagna and lots of wine.
We were staying in their upstairs AirBNB unit. It was delightful.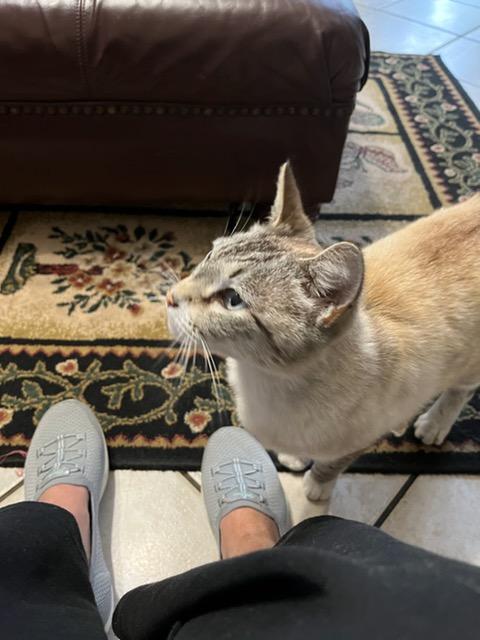 Day 10, Thursday, November 17th, 2022
Next morning after a lazy breakfast we headed off to  Mossel Bay – a beautiful seaside city – for lunch.
At lunch Johnny and I had a Mimosa (weird with the 2 colors) and Penny had a Pina Colada.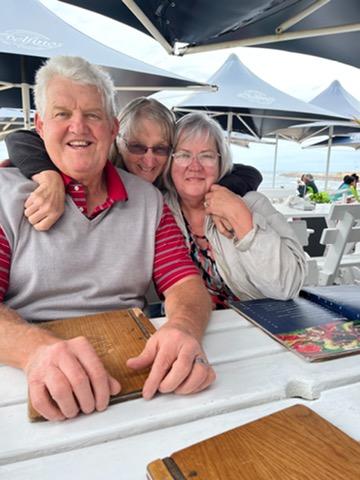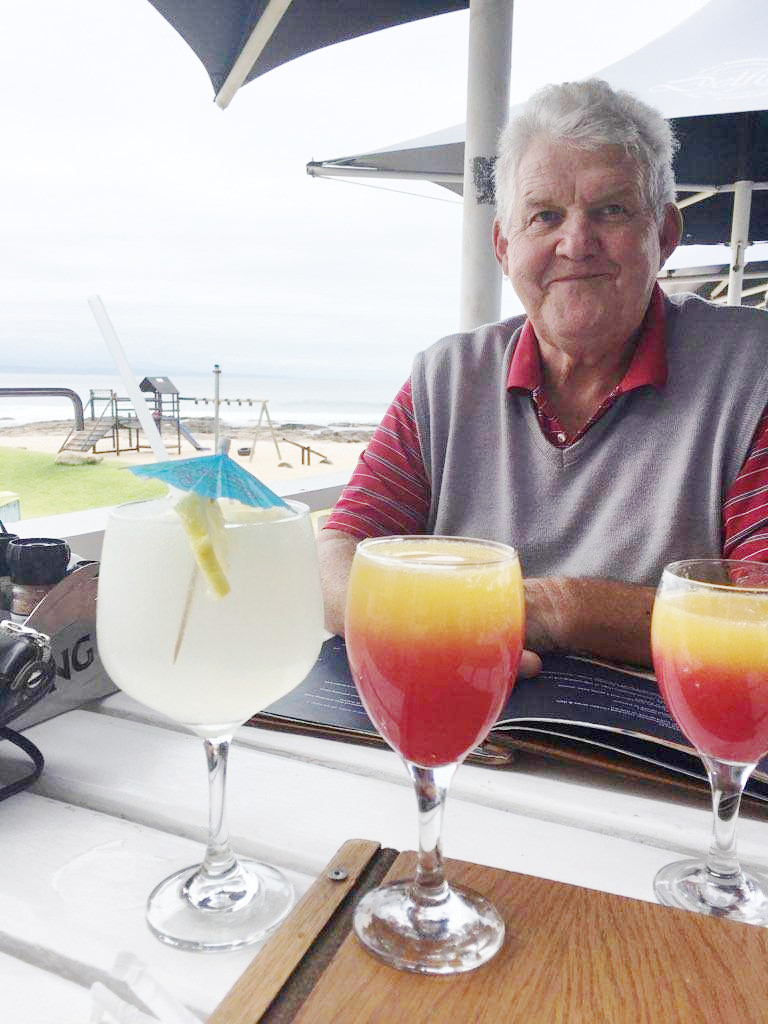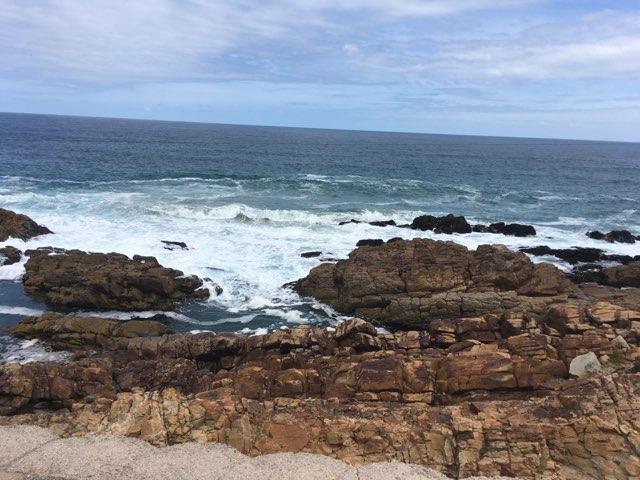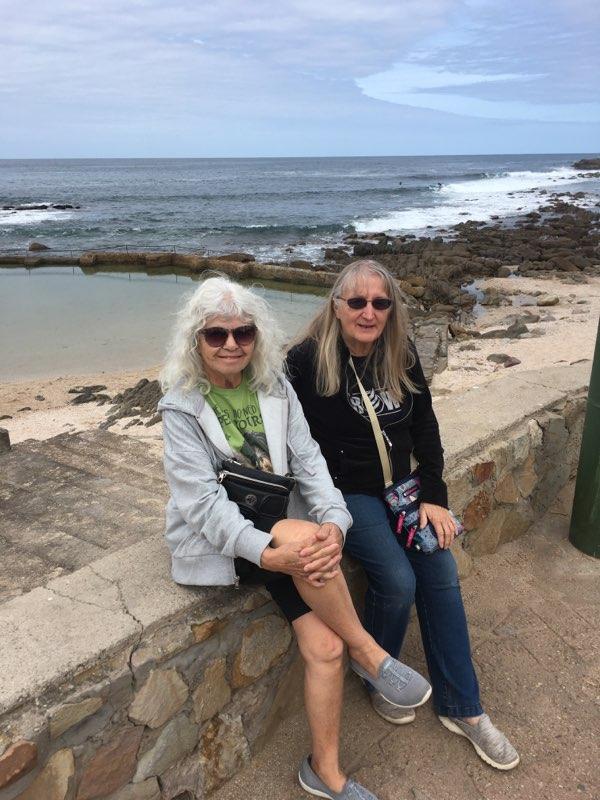 After lunch we wondered around the area and came across a Dassie (a Rock hyrax native to South Africa). Penny was fascinated by these small rodent like animals.
Then a nice drive back to George, where Marlize once again gave us a great meal, with wine, chatted some more, then off to bed.
This touristing is exhausting!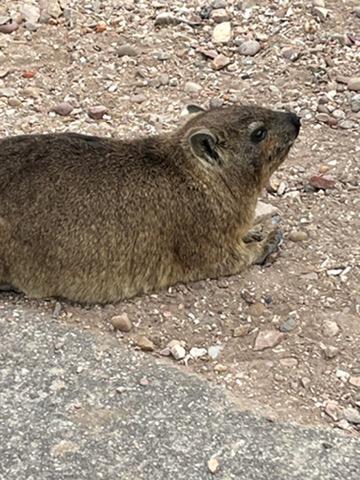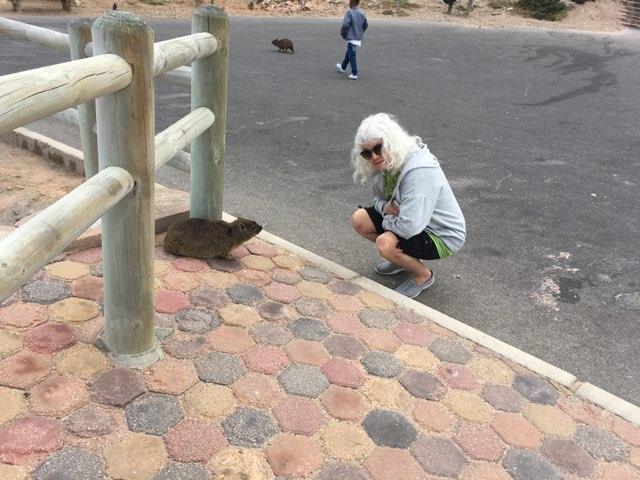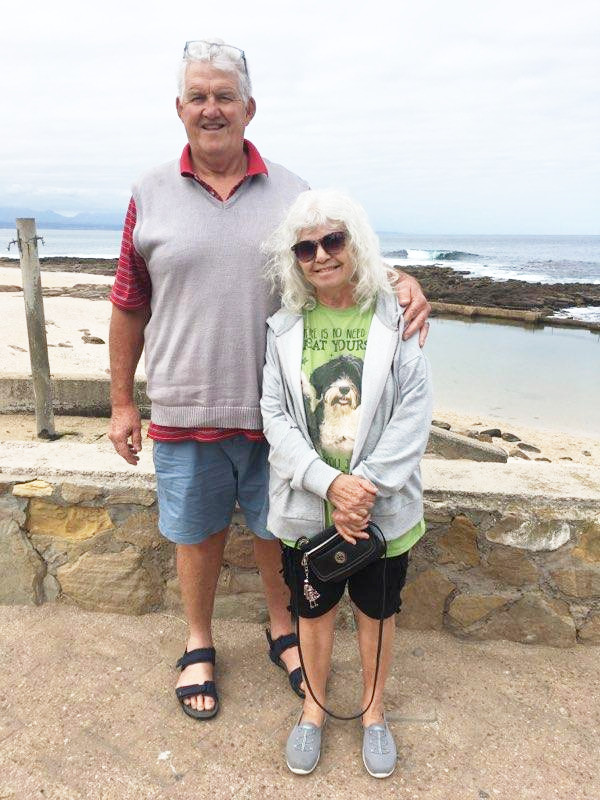 Day 11, Friday November 18, 2022
Woke up to load shedding – that was not expected- the area went into Phase 4 today (meaning load shedding 3 times day) – so not much luck getting emails/texts.
Had a quick breakfast  then Johnny drove us to meet Liane in Plettenberg Bay. We missed the turn off but got to her place a little later than expected.
It was so great to see her – she pretty much looks the same as I remember her. She took us to this gorgeous farm that had once been a Polo club but has now been turned into a winery.
Bitou Vineyards – Derek, their general manager gave us a tour. They have kept the Equestrian look and feel but turned the inside into a working winery
It was good to chat to Derek and it was nice to know that he was interested in what we were doing on our small operation. Penny told him about our sheep in the vineyards and he was genuinely interested in getting more info from her.
We walked a few rows of the vineyard. Because of the humidity here, their major issue is with mildew – both Downey and Powdery as well as Botrytis.
They do a sparkling process which they call 'methode cap classique' or MCC. Same as our Methode Champenois. He had a riddling cage called a gyro set up similar to what Eric  (the guy that does my sparkling) has.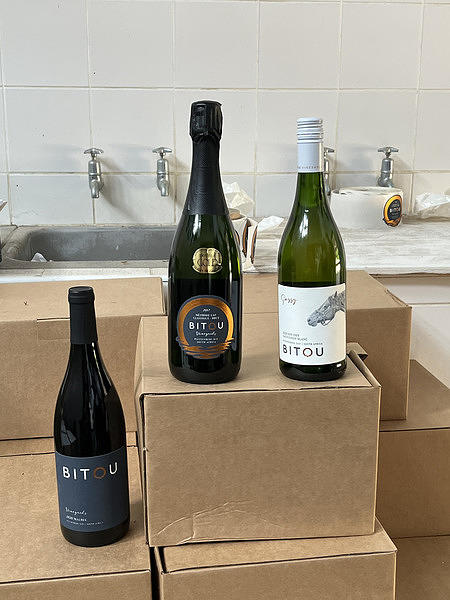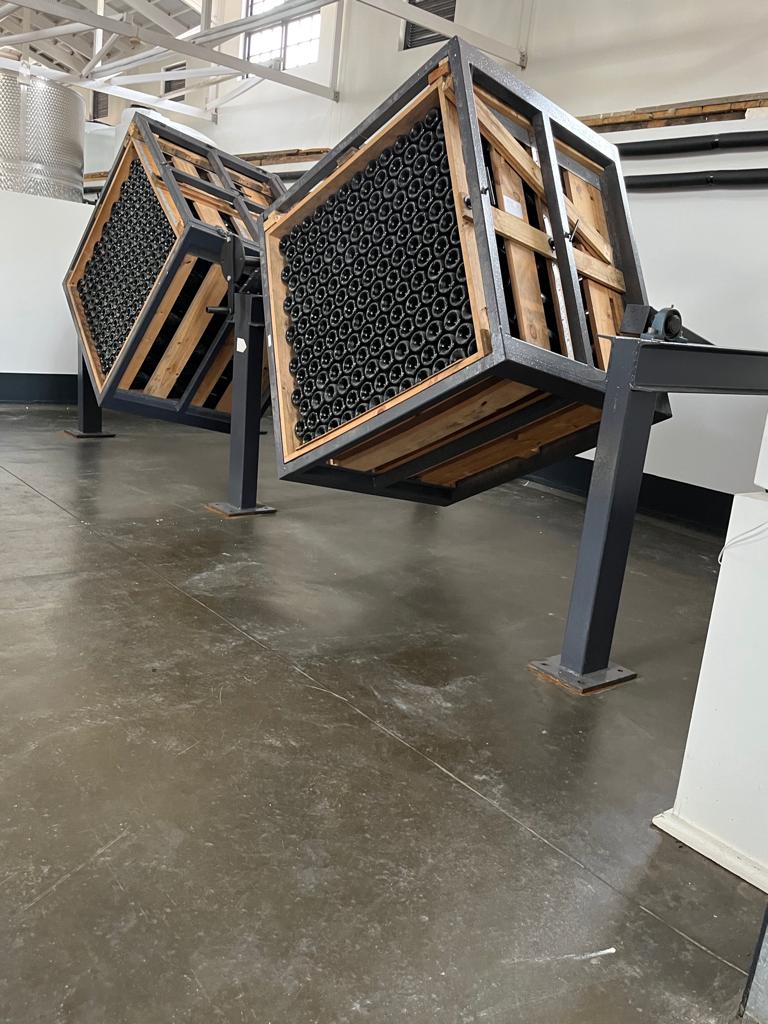 After this wonderful tour we went to a cute little farm stall style restaurant where we were joined by Joy Davidson, one of my horsey friends. Once again we shared some of our old stories and remenisced about the good times. They had a petting zoo so Penny was once again in her element! Joy's little dachshund sat on our table and Penny shared her sweater with him
After lunch – where we shared a bottle of Bitou's MCC we went to a restaurant on the ocean to get another view of the waves. We had another cocktail and then returned to Liane's. We chatted some more and Liane made us a toasted sandwich for dinner. As we had eaten way too much that day, that was perfect.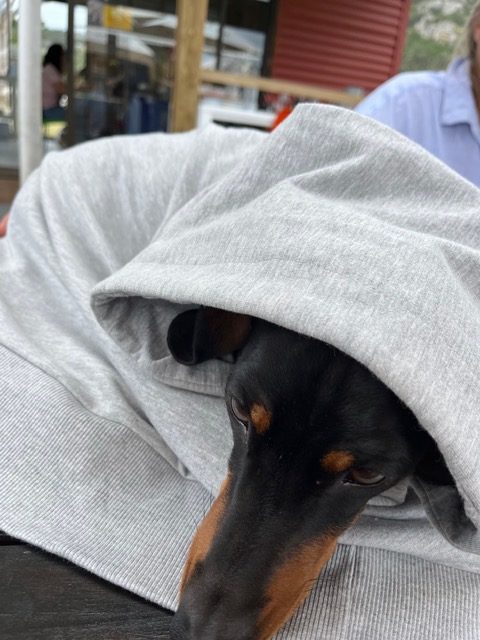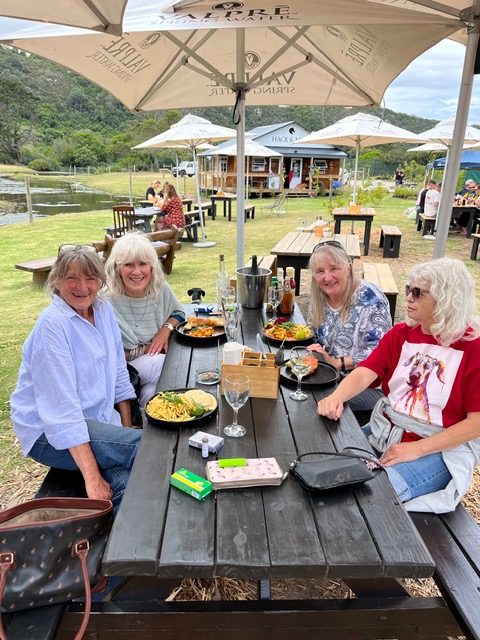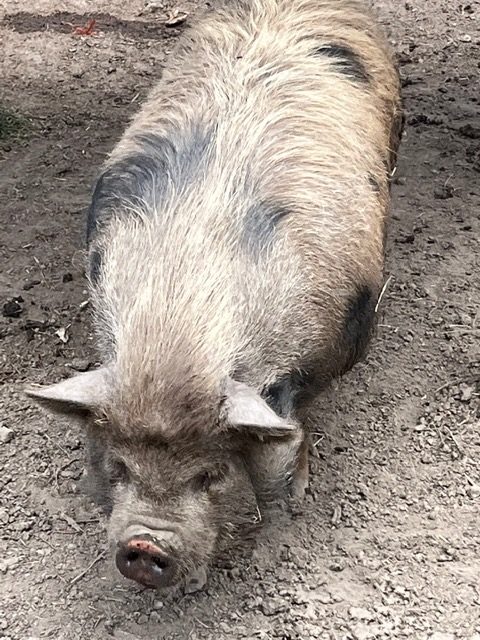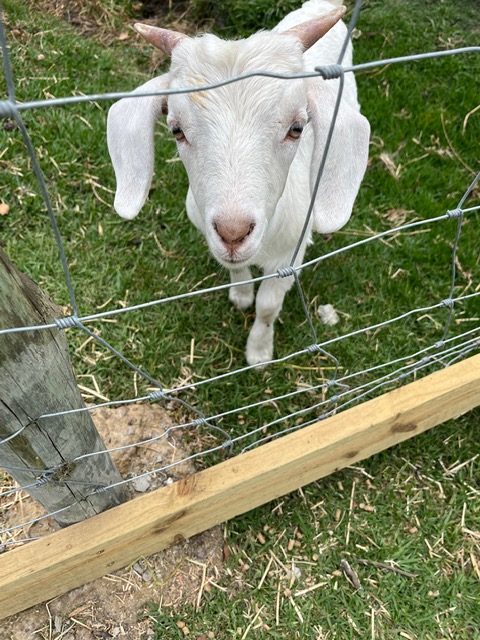 Day 12, Saturday, November 19th, 2022
Woke up to NO load shedding so was able to do some catch-up. But didn't have my laptop so did not get to do any emails. After a simple breakfast we went to Knysna toured some of the shops, then met Maureen Tindale and had a fabulous lunch at the Dry Dock restaurant of 12 prawns, a glass of wine – their Saturday Special – for a mere R99 (about $6)!
After lunch Johnny picked us up to go back to George, where Johnny and family – gave us a fabulous farewell Braai of Lamb chops, stywie pap, pumpkin and more wine. What fabulous hospitality we have had. The South African way!